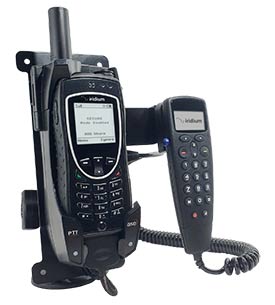 ASE-9575 HQ DOD Docking Station
By : Applied Satellite Engineering | Model : ASE 9575P-HQ-DOD; ASE 9575P-HQ-DOD-H
Secure Docking Station for the Iridium 9575A Satellite Phone
Provides End-to-End Security for Info Classified Top Secret & Below
Unmatched Security & Reliability with Global Reach
Real-time, Secure, Low-latency Voice Communications
Supports External Antennas for Indoor, Mission Critical Communications
The ASE 9575P-HQ-DOD Docking Station is the only docking station that supports General Dynamics' Iridium 9575A satellite phone hand­set. It is the ideal secure satellite communications solution for your military/government operations, no matter where you are.

Features
Secure Voice Encryption
Toggle Easily Between Clear & Secure Calls
Supports External Iridium & GPS Antennas for Indoor Operation
POTS / RJ-11 interface
Privacy Handset with Desk & Vehicle Mount Options
Integrated Speakerphone (via 9575A)
Global Coverage
Benefits

The ASE 9575P-HQ-DOD Docking Station works with General Dynamics' DOD security module 2 and Enhanced Mobile Satellite Services (EMSS) for global voice, data, and paging capabilities. The docking station also enables easy integration into your existing Plain Ordinary Telephone Service (POTS). Its small form factor and easy wall mounting make for easy integration into your spaces.

Use Cases
Indoor & Mobile Applications
Secure Encrypted Voice
Standard Voice
Technical Specifications
Physical Specifications
| | |
| --- | --- |
| Dimensions | 330 (L) x 152 (W) x 114 (D) mm |
| Weight | 1.6 kg (3.5 lbs) |
| Shipping Weight | 2.7 kg (6 lbs) |
| Shipping Dimensions | 406 (L) x 356 (W) x 203 (D) mm |

Environmental Specifications
| | |
| --- | --- |
| Operating Temperature | -10˚C – 55˚C |
| Exposure | Indoor |

Power
| | |
| --- | --- |
| Power Consumption | 12 Watts (Active Peak) |
| AC Mains | 115/230 VAC 50/60Hz to 12 VDC; Adapter Provided |
| Operating Voltage | 10 – 32 VDC |
| Exposure | Indoor |

Antenna
| | |
| --- | --- |
| Antenna Connections | Iridium TNC-F; GPS SMA-F |

Mounting
| | |
| --- | --- |
| Mounting Options | Swivel Desk, Vehicle, or Wall Mount Available |
Certifications
CE Mark: IEC60945
FCC: Part 15, Subpart B