« Back
The Digital Ship Prominently Highlights Iridium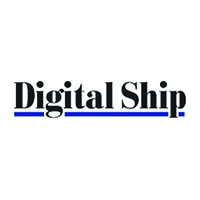 Summer is here, and so is the June/July 2015 edition of The Digital Ship. We are particularly excited about this issue because it features Iridium initiatives, products and services in multiple places throughout the publication. The topics range from the innovation Iridium NEXT and Iridium CertusSM will bring to all markets, to our pursuit of maritime GMDSS certification. Below is the highlight reel in case you missed it!
Iridium gears up for next generation (Page 22-23)
Featuring Bryan Hartin, Executive Vice President of Sales & Marketing at Iridium, and Brian Pemberton, Vice President & General Manager, Aviation and Maritime at Iridium
After almost 20 years, Iridium will be launching a new constellation of fully backwards compatible, LEO satellites called Iridium NEXT, which is on track to begin launching in late 2015. This initiative will open the doors for innovative new products, capabilities and services, one of which is Iridium Certus, Iridium's next-generation broadband service that was announced earlier this year. Iridium Certus will offer a best-in-class combination of network throughput, superior coverage and quality, as well as a smooth transition from the current Iridium constellation to Iridium NEXT. In addition to being a strong standalone L-band communications service, Iridium Certus will also have the potential to serve as a backup or complement to VSAT services in the future.
"First and foremost, Iridium NEXT is designed to be backwards compatible. All of the existing products and services that Iridium and its partners sell and market today worldwide across land mobile, maritime, aviation and M2M, will continue to work on Iridium NEXT." – Bryan Hartin, EVP Sales & Marketing at Iridium
In addition to serving the Maritime industry, the deployment of Iridium NEXT and the availability of Iridium Certus will pave the way into new markets where broadband service was out of reach.
"We expect to see a new category of user adopting the broadband services, because the types of terminals that we're looking to be able to introduce to the market will have a smaller form factor, at a much lower price point, and hence we're looking for increased adoption in new market segments that traditionally have not been able to afford satellite broadband connectivity." – Brian Pemberton, VP & General Manager, Aviation & Maritime at Iridium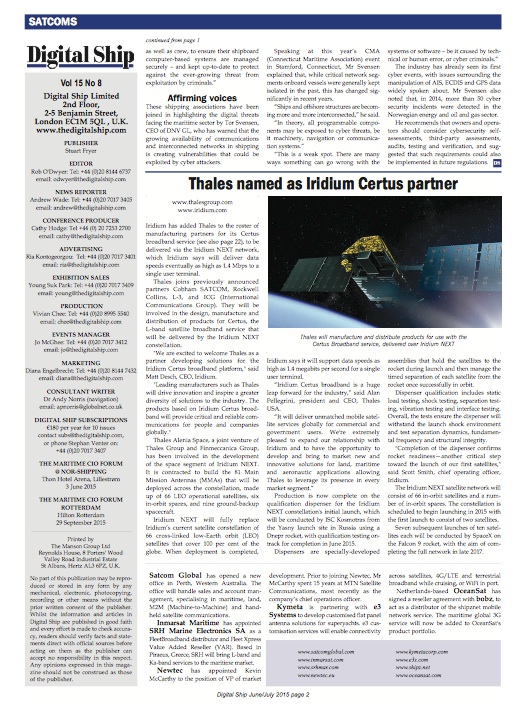 Thales named as Iridium Certus partner (Page 2)
Iridium has added Thales to the group of manufacturing partners supporting its new broadband service, Iridium Certus, supporting three markets – land mobile, maritime and aviation. With the addition of Thales, there are a total of five value added manufactures supporting Iridium Certus and specific lines of business including Cobham, supporting aviation and maritime, Rockwell Collins, supporting aviation, L-3 Communications, supporting aviation and land mobile and ICG (International Communications Group), supporting aviation.
"Leading manufacturers such as Thales will drive innovation and inspire a greater diversity of solutions to the industry. The products based on Iridium Certus broadband will provide critical and reliable communications for people and companies globally." – Matt Desch, CEO at Iridium
Production has been successfully completed on the qualification dispenser for the Iridium NEXT initial launch out of the Yasny launch site in Russia, using a Dnepr Rocket.
"Completion of the dispenser confirms rocket readiness-another critical step toward the launch of our first Iridium NEXT satellites." – Scott Smith, Chief Operating Officer at Iridium.
Iridium GMDSS evaluation begins (Page 8 )
The International Mobile Satellite Organization (IMSO) has begun a formal review of Iridium as a Global Maritime Distress and Safety System (GMDSS) provider. The review process will consist of a panel of experts responsible for producing a technical and operational assessment of Iridium, specifically focusing on Iridium's infrastructure including earth stations, space segment, mobile terminals, terrestrial networks, GMDSS and search and rescue communications.
To access the full digital copy of this edition, please click here – The Digital Ship, June/July 2015