« Back
Special Delivery! The First Full Payload of Iridium NEXT Satellites Arrives at Launch Site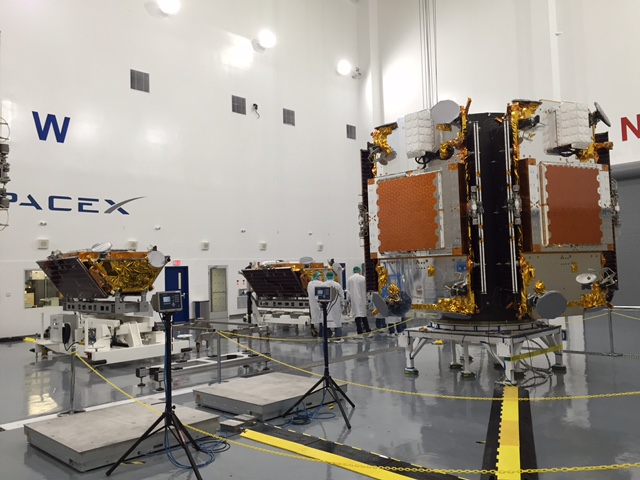 Today marks yet another Iridium NEXT program milestone as we approach the first launch, with all ten Iridium NEXT satellites required for first launch now on site at Vandenberg Air Force Base in California.  At approximately 7:00 A.M. PDT on August 25, the final satellites required for the first payload were delivered, and immediately began pre-launch processing. These satellites represent the first set of the 70 total satellites that will be launched on SpaceX Falcon 9 rockets, marking the start of a series of seven launches scheduled over the next 18 months.
"We are very excited to have reached this stage of the program," said Matt Desch, chief executive officer of Iridium. "After all these years of preparation, it's wonderful to have the first batch of satellites complete, on-site and being prepped for the first launch.  We want to express thanks to every person involved in the program who has helped get us to this point."
Partnering with Iridium on this initiative as prime contractor is Thales Alenia Space, and their partner Orbital ATK, who are manufacturing, assembling, integrating and testing all Iridium NEXT satellites.
The satellites shipped two at a time from the Orbital ATK Satellite Manufacturing Facility in Gilbert, Arizona, in specially designed motion and temperature-controlled shipping containers, on a flatbed truck to the launch site. In a recent post, we highlighted how Iridium used our own M2M technology to track the satellites' journey in real-time to first launch. To read more about their journey and view additional photos, check out that post which can be read here.
So what's left to be done?  Soon all ten satellites will be mated to the cylindrical dispenser, five on a lower tier, and five on an upper tier.  The dispenser holds the satellites securely through the initial launch to orbit, and then distributes the satellites on command.  After mating, the satellites will each be carefully fueled with hydrazine, the propellent used in space to maneuver them in orbit.  The final step will be to encapsulate them all in the rocket fairing, the clamshell looking composite structure at the top of the rocket that protects the satellites on their ride to space, and separates on command to expose them for delivery.  Concurrent with this activity, are preparations being made on the two stages of the Falcon 9 rocket, as SpaceX prepares it for launch.
We're getting close to the historic first launch of Iridium NEXT — our first launch in almost 20 years!  Soon the new satellites will be in position to provide exciting new services for our partners for many years to come.
Please check back for more program updates here on Iridium's company blog, Iridium 360. For additional information about Iridium NEXT, please visit www.iridium.com.