This National Dog Day, we're celebrating all the loyal dogs around the world that make us feel more connected than ever. There's one dog we find particularly paw-some: Reggie–Iridium® Director of Government Programs David Robinson's service dog. Learn more about Reggie and David in this Q&A:
Can you please introduce and give a little background on yourselves?
David: I recently retired from the United States Army after a 30-year career. I deployed multiple times to Afghanistan and Iraq between 2003 and 2011 and was diagnosed with Post Traumatic Stress Disorder (PTSD)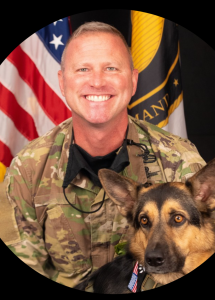 in 2012. I am honored to share the fact and don't mind discussing my disability. For me, overcoming the disability is best done in the open and I have found it to be a great tool of diversity, communication and even productivity.
Reggie: My dad rocks ;). I was born to a German Shepherd dad and an Australian Shepherd mom and am glad to have gotten the best of both. I am not particularly humble, and I LOVE people. I always look forward to meeting new people, but always make sure to ask before petting me so dad can control the interaction.
How long has Reggie been your service dog? Can you tell us the story of how you met?
David: In January 2020 just before COVID hit, my daughter finally talked me into getting a dog. She knew I would be happier and boy she was right! Reggie and I were interviewed by a service dog program in Denver and began training together in 2021. There are many different paths to service dogs. Often, they come from an organization that trains them and are given to the person ready to go. Other programs like ours called Hero's Puppy for Life train the human and puppy together as a team. We are still learning and in true military style, will always be in training. The Americans with Disabilities Act (ADA) recognizes service animals and gives them statutory protection. They can be dogs or even miniature horses believe it or not! Comfort dogs, emotional support dogs, etc. are not protected under statute. Fully certified service dogs are treated as essential as any other item people use to cope with disabilities.
Reggie: Dad is usually the weakest link in our training, but I forgive him because he gives me steak and stuff.
How has the transition from the military to Iridium been for you both?
David: So far, so good! I'm already a few months in and it is clear the fit at Iridium is solid for us both. The people are amazing, and the reception of Reggie has been incredible. I have a lot to learn and am lucky to be surrounded by great folks. I am very grateful to be here and believe that I will be here for a long time.
Reggie: What he said. Woof!
Can you share what a day in the life of a service dog is like?
Reggie: We live in the mountains of Colorado west of Denver so usually I wander outside first thing to find nature as dad stumbles to life in front of a cup of coffee. My job is to be sure everything is safe, so I study the place–on the lookout for anything out of the ordinary. We have bears, moose, deer, elk, bobcats, mountain lions, coyotes, and other wildlife, so it's a serious job. We travel about 50% of the time, often by car, to Colorado Springs where the Department of Defense (DoD) space community is centered. We fly on airplanes a lot too and I almost never have an accident in an airport. I know more generals than most people and have sat in some very classified meetings. It's nice to find people that need a boost and to give them that lift. It seems everyone can use a boost sometimes. Happier people are more productive and nicer. It's that simple. Done properly, it's purely an upside. On rare occasions, some folks share they have an allergy or sensitivity to dogs. Some folks are scared of dogs in general, usually from a traumatic event with one in their past. It is good to express this as soon as possible. Service dogs should never make anyone uneasy or ill and there are many ways to prevent that.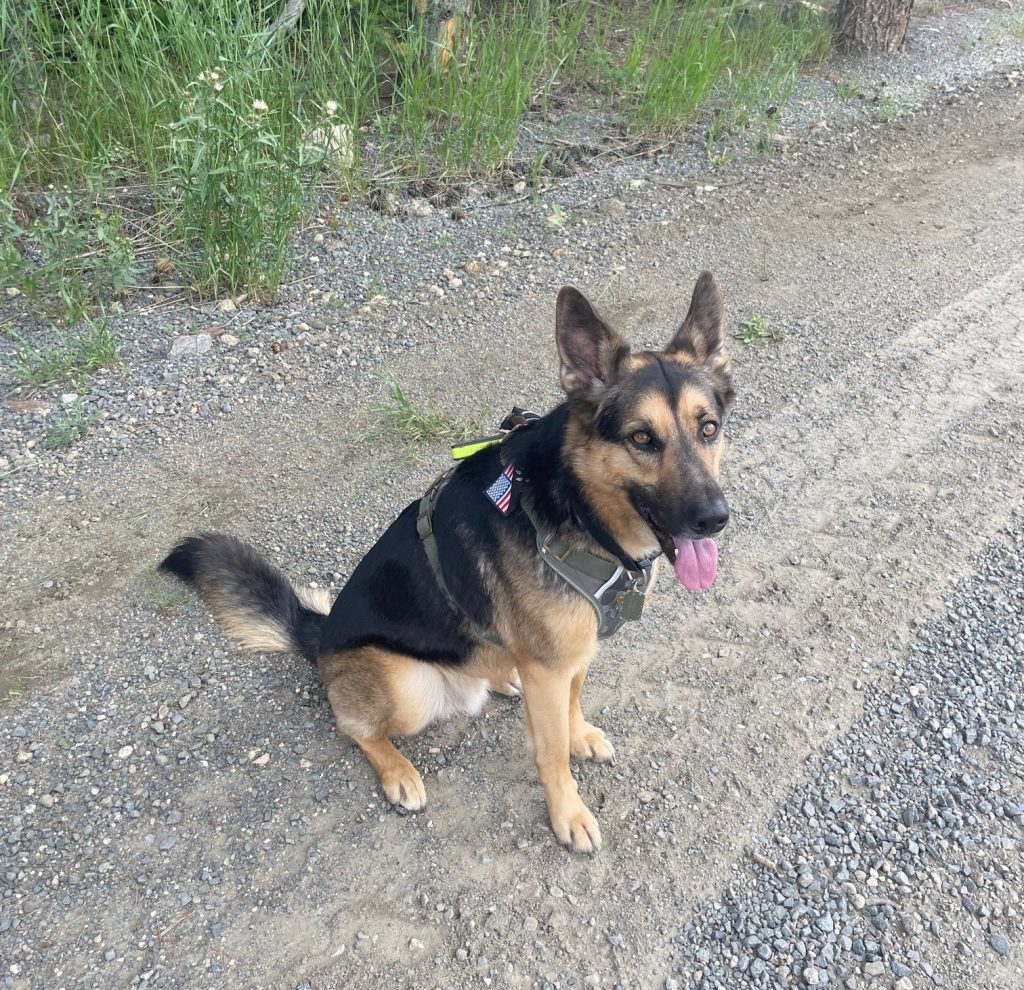 Are people allowed to pet Reggie?
David: Yes, but after asking me. This is to be sure I know the interaction is occurring and happens in a safe manner. Reggie is very friendly and has never bit at anyone. That said, I am committed to setting a good example for all service dogs and their owners. Many folks believe service dogs are not to be petted especially while they are "working". This is generally true and is a good rule of thumb. Look for a tag or label that indicates the dog's status. I have an "ask to pet" tag on Reggie. "Do not pet" is a clear indicator as well. I have friends with service dogs that are not approachable. I am continually surprised by how many people will pet without asking or put their face into a stranger's dog's face. It's never a good idea if you like where you nose currently attaches to your face!
Reggie: It is best to give my dad cake and cookies so that I will like you more!
Is there anything else our audience might not know about service dogs that you'd like to share?
David: Dogs are a gift to people. My life is much richer and happier with Reggie in it. Frankly, though, it can be draining. While I am in sales, I can be a bit of an introvert at times but with Reggie at my side there are seldom times when we are not talking to people. Since Reggie is so very friendly and lifts every situation, I believe it is my duty to share his nature with the world. I take him everywhere no matter how inconvenient. His service includes making everyone happier and calmer and he is an absolute champion at that, so I hope you will say hello if we meet and seek us out if you need some stress relief.
Reggie: Say hello and share our story. Ask us for more information. There are lots of dogs needing people and lots of people needing dogs–whether service or not.