« Back
Q&A with Audrey Puderbaugh, Principal Engineer, Space and Ground Services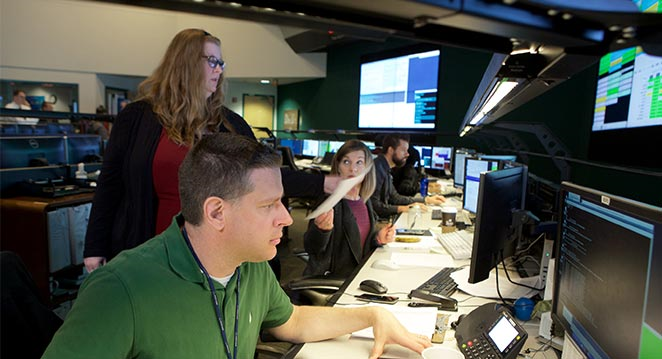 Can you tell us more about your STEM education and career path? What motivated or inspired you to become an engineer?

I have loved everything having to do with space since elementary school. When I was in the 4th grade, I decided I wanted to become an astronaut. I grew up in the age of Top Gun, so I loved airplanes and jets too. I decided sometime in high school that I wanted to become an aerospace engineer, so I went to the University of Kansas and pursued my degree there.

How long have you been working at Iridium and what led you to a career here?


My first job after I finished my degree was at Iridium. I have been working on Iridium for about 23 years now. I started in Mission Planning and Orbital Analysis (MPOA) when the final launches to build out the Block 1 constellation were taking place and they needed the extra help. I had the opportunity to move to the Space Engineering team about 17 years ago to work as an attitude determination and control engineer, and I have been doing that job ever since.

You're a very active volunteer in your community. Can you tell us more about this work?


Most of the volunteering I am currently involved in is focused on Scouting and STEM education.  But my Scout volunteering is usually centered around STEM outreach too. I have been helping with Bring Your Child to Work Day (BYCTWD) at Iridium's Satellite Network Operations Center (SNOC) going on a decade now. When I found out my older son liked my husband's BYCTWD better because he got to release a whole tube of Mentos into a 2L of Coke there, I took on the role of helping to lead coordinating the STEM activities at Iridium. I think space is way cooler, and I wanted to make sure Iridium's experience was just as fun. At that point, I realized the core truth of all volunteer opportunities – if I wanted STEM to be important and interesting to young people, I could and should do something about it and not wait for someone else to do it.  

I think I have always been drawn towards STEM education though. One summer in college, I was a space camp counselor at the Kansas Cosmosphere and Space Center. I loved it when they let me teach the class about aerodynamics. I also had the opportunity to spend a semester teaching simple machines and how to design a Mars mission to a class of 4th and 5th graders. I discovered then I enjoyed planning and teaching these activities a lot. So, my college experiences and then BYCTWD has segued to presenting at Career Days, coordinating STEM activities with Scouts, and now I get to coordinate the Iridium STEM volunteers at Ashburn Elementary School here in Northern Virginia. 

Several years ago, Walt Everetts (Iridium Vice President of Satellite Operations and Ground Development) approached us with an opportunity to partner with Loudoun County Public Schools to help develop and teach STEM topics to students. We put together a wonderful group of volunteers from the SNOC and have been assisting Ashburn Elementary with whatever supplementary STEM education they need for the last three years.  We help them run their makerspace in the library, help the 2nd and 4th grade teams with STEM lessons, present at their career fair, and more. I am so proud of how our group has adapted to continue to help during online school this past year too. Our in-person lessons moved to Google meets and also videos that we recruited some of the Marketing Team to help us out with. I am looking forward to the possibility of having in-person lessons again next year. It is always fun to see how excited the students get when we are there. My favorite part is getting thank you notes from the students during teacher appreciation week. They make me smile every time I read them.

You have accomplished so much in your career so far. Have you faced any challenges along the way and how did you overcome them?


I would say there are two main challenges I have faced over the years – and both are good challenges to have. First off, the job we do is challenging. Operations is a constantly changing environment and there is always a new puzzle to solve. It never gets old being an engineer at Iridium. We get to find solutions to issues satellite design engineers never even dreamt of. If you can think of a problem on a spacecraft, it is quite possible we have worked to solve it. When we were training on how the new satellites work, we asked a million questions knowing the issues we already encountered keeping Block 1 satellites operating and providing service for nearly 20 years. I am looking forward to the new challenges we will face as we continue to operate our satellites.

The second challenge is maintaining a healthy work-life balance. What is a work-life balance, right?! As most people experience – when they can call and text you 24×7, they will. My kids have grown up knowing that mom may have to leave their game or step out of a performance for work. I even get Mother's Day cards with satellites on them sometimes. I have just had to learn over a long period of time to step back sometimes and let one or the other (work or home) take priority and go with it. I am definitely not always good at that – like the time I was trying to support an anomaly from the closet of our hotel room at Disney World…but I try! Regret over favoring one over the other just makes both situations more stressful. Luckily, I have always felt like my managers have been supportive when the priority has become home.

Congratulations on being recently being elected Outreach Working Group Co-Chair for Space & Satellite Professionals International's Women in Space Engagement (SSPI-WISE)! Could you tell us more about the position and how you came across the organization and this role?


I really must give my colleague Coral Faradjian (Iridium Director, Contracts) a shout out for my involvement with SSPI-WISE. We were paired as one-on-one networking partners in Iridium's internal program, Iridium Women Connect (IWC) last fall and she suggested I attend their January meeting. The group had just formed in December 2020, was figuring out their mission, and getting organized. One of the working groups they were forming was STEM Outreach. Since STEM is near and dear to my heart, I volunteered to be a part of that group. As we were trying to organize and find our vision for the working group, I found myself starting to coordinate more and more of the meetings along with one of our other co-chairs. When nominations opened for elections, I decided I wanted to continue to help guide the group. 

We are creating a strategic plan to pursue three areas of interest: to promote educational activities and opportunities, to strengthen partnerships with both educational and other space organizations, and to establish a scholarship fund. I've been able to meet with my other two co-chairs and our working group a couple of times since the election. We have a dedicated group of volunteers with amazing ideas. I am excited to work with them!

SSPI-WISE is a group that welcomes all women members from the space & satellite industry. How has it been meeting and collaborating with other women working in the industry outside of Iridium?


I have not had the opportunity to be involved with an industry organization for a long time. It has been really inspiring to be able to network with other women in our industry – to hear their stories and advice. I love the support and encouragement that SSPI-WISE seeks to give women at all levels of their careers. I am just beginning to get to know the other members of SSPI-WISE, but they are already challenging me to step out of my comfort zone and to be better at networking, since that's not one of my strong suits. This group is a great companion to the work that the IWC group has started within our company. I highly recommend anyone seeking further opportunities to connect to and learn from other women in the space industry should consider participating in a meeting or event sponsored by SSPI-WISE.

Being a woman in STEM, you're helping to continue paving the way for young women and girls everywhere. Do you have any advice for those who may want to follow in your footsteps or pursue careers in STEM?


It is really exciting for me to be able to focus on encouraging young women and girls who are interested in STEM careers. I have sons so I have encouraged all children I have worked with in recent years to pursue careers in STEM. But I do have a special place in my heart for supporting young women in their exploration of STEM fields.

I would encourage young women to try something new even if it seems difficult. You will be successful and learn something valuable about yourself whether you complete the task or not.  Also, keep trying different things until you find what you love. Engineering, for example, has all kinds of different types of jobs.  A person who loves to design may hate testing or operations and vice versa. You never know what you may love until you try it. I came out of college like every engineer I knew, thinking I would design and build something. But I was given the opportunity to try satellite operations and found out that I absolutely love it.  
To learn more about SSPI-WISE, visit: https://www.sspi.org/cpages/sspi-wise-women-in-space-engagement