« Back
Precious Cargo! AssetPack-3(TM) Used to Track the Successful Delivery of Iridium NEXT Satellites to Launch Site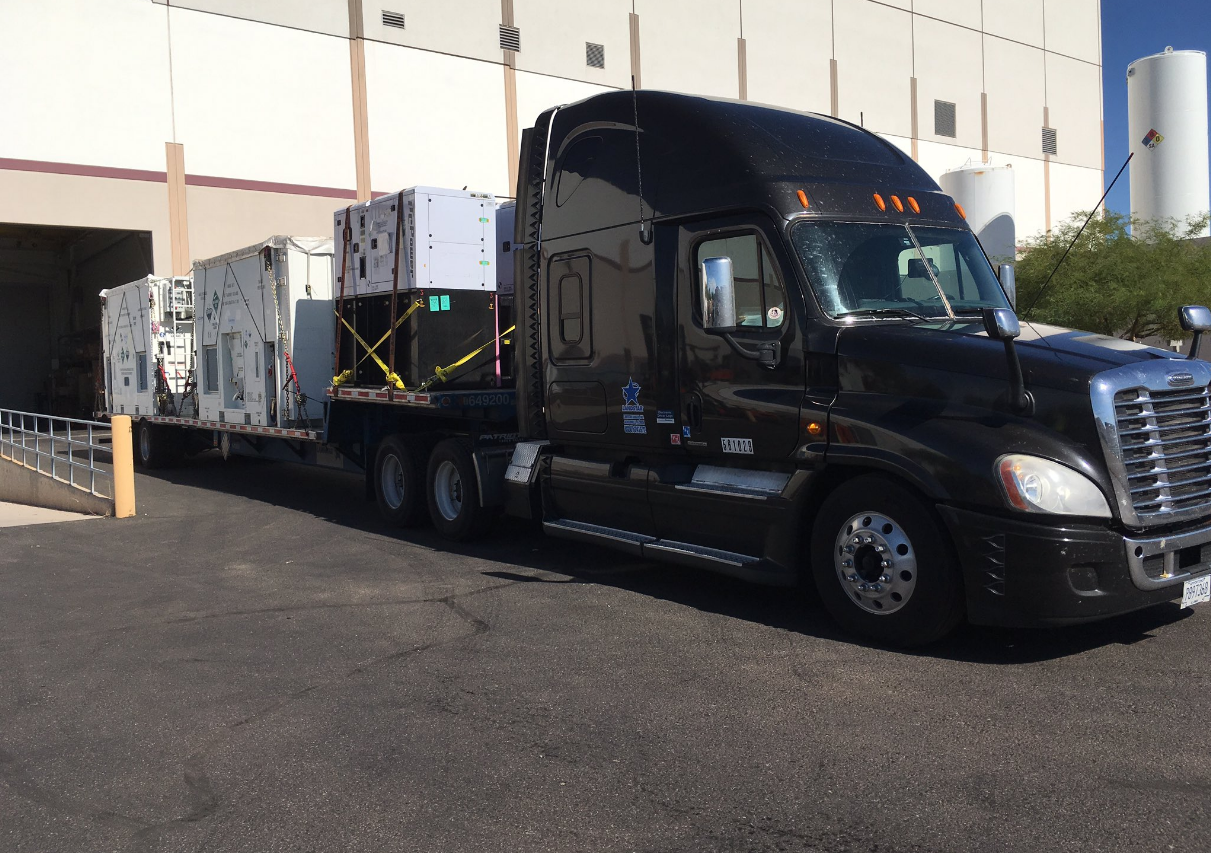 We are excited to announce that today marks another Iridium NEXT launch milestone with the arrival of the fourth set of two Iridium NEXT satellites to Vandenberg Air Force Base; making a total of eight satellites out of ten needed for the first launch, onsite. With this milestone, we wanted to provide an insider view of the efforts taking place out in Arizona and California to prepare for the satellites safe delivery – an important step towards ensuring we're ready for our upcoming launch.
As part of this effort, Iridium is taking a page out of our own playbook to support the transportation of our satellites. Our current network in tandem with our M2M devices are used to track fleets, shipping containers and other valuable assets no matter where they are on the planet. Why not use Iridium to track our own shipments of Iridium satellites? Through our existing partnership with AssetLink Global, Iridium is equipping each satellite container with an AssetPack-3(TM) solar powered two-way tracking device, giving us added security and a view into their transport.
Shipping two at a time, in specially designed, motion and temperature-controlled containers on a flatbed truck, the satellites depart the Orbital ATK Satellite Manufacturing Facility in Gilbert, Arizona with every mile of the journey monitored in real-time. The AssetPack-3, developed by Iridium M2M partner AssetLink Global, leverages the Iridium(R) network through an embedded Iridium 9602 transceiver to enable end-to-end asset management for customers all over the globe, including remote areas not covered by other networks.  By installing the AssetPack-3, the Iridium NEXT program team is able to constantly track the satellites' location and ensure their safe arrival.  Additionally, the device allows the team to track vehicle motion, such as when the truck starts and stops, and poll it directly for real-time location 24 hours per day.  For the Iridium NEXT satellites, their approximately 550-mile journey from Arizona to California will take about 12 hours, but for other users of the AssetPack-3 who have longer tracking requirements, the solar-powered device is capable of providing connectivity for up to ten years without any required maintenance and without any wires or external power.
"We are excited that Iridium is using the AssetPack-3 device to track the delivery of each Iridium NEXT satellite vehicle to the launch site," said David Goldstein, President, AssetLink Global. "The timely, safe and secure transport of each satellite is such an incredibly important part of the program, and we are very proud that Iridium has entrusted the tracking of such precious cargo to our product."
We are incredibly proud to work with AssetLink Global as a partner in providing reliable and global M2M solutions.  Below are some snapshots of the detailed information the AssetPack-3 tracking device provides end users, and we look forward to tracking every mile each Iridium NEXT satellite travels (at least while on Earth) with them!
For more information about AssetLink's AssetPack-3 tracking device, please visit Assetlink's website, and read the AssetPack-3 brochure.
For more information about Iridium NEXT, please visit: https://www.iridium.com/network/iridiumnext