« Back
Iridium Boosts Iridium NEXT Production as the First Launch Is Within Reach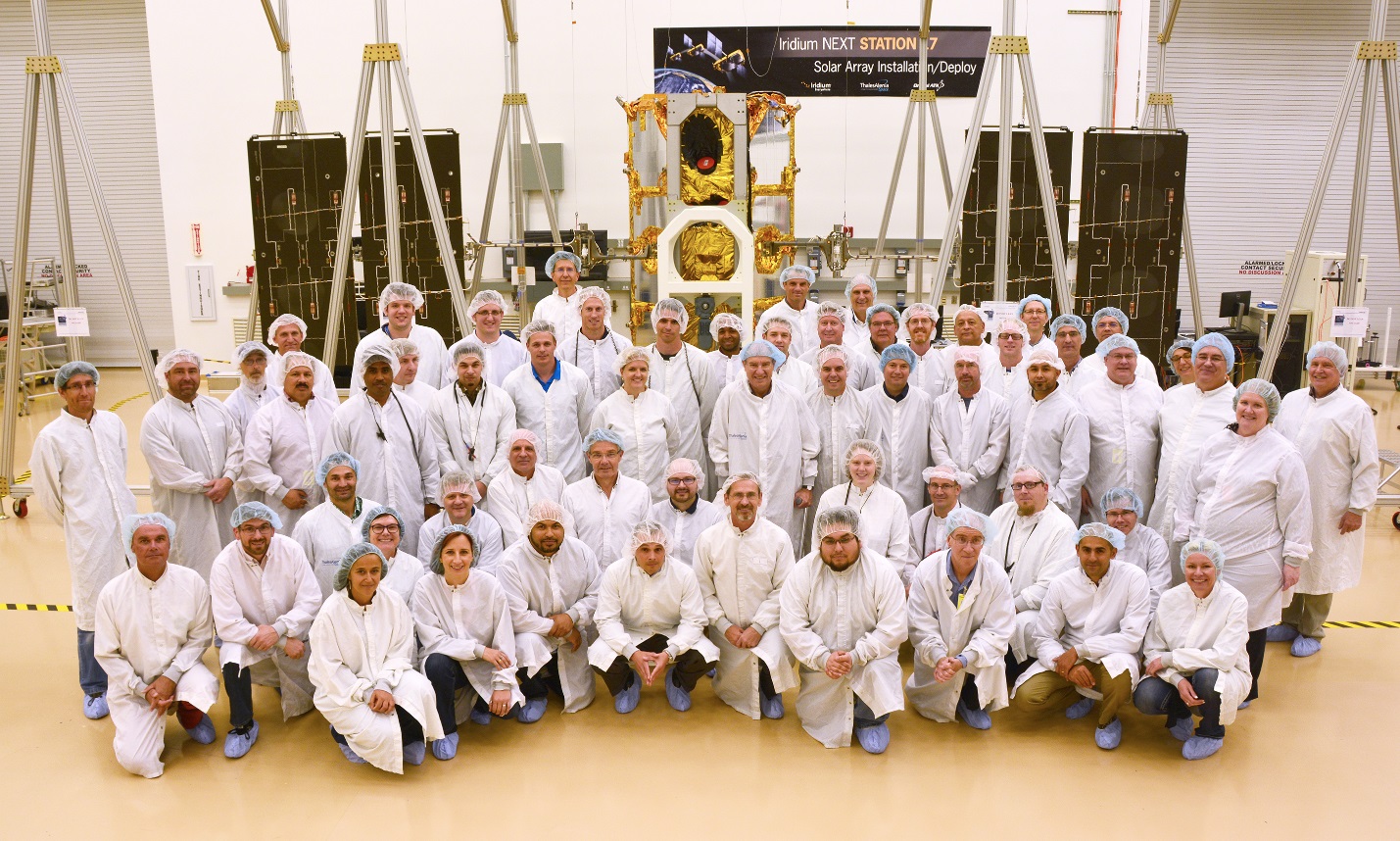 As Iridium continues preparations for its first Iridium NEXT satellite launch this summer, the company recently completed manufacturing and testing its first satellites, and is gearing up to increase its production speed. Meanwhile, the finished satellites are being prepped for storage before shipping to Vandenberg Air Force Base in California.
Assembly, integration, and testing of the satellites are performed by Orbital ATK, a subcontractor to Thales Alenia Space, at their manufacturing facility in Gilbert, Ariz. The size and complexity of the Iridium NEXT constellation is unprecedented in the satellite community, requiring a unique assembly-line approach to complete production. Several hundred thousand hours of workmanship by hundreds of engineers has already gone into the completion of the first satellites. Each satellite proceeds through 18 different work stations ranging from panel integration and payload testing to full satellite integration, solar array installations and alignment checks. While certain stations require more hours of effort than others, with the most detailed work occurring at the Thermal Cycling Test station, each represents a critical step toward delivering a fully functional Iridium NEXT satellite.
After assembly and integration, the first low rate satellites must undergo a series of tests to ensure the vehicle meets design specifications, as well as production tests to verify the quality of the manufacturing process. Some of those tests include vibration and acoustic testing, which simulates the movement and sound pressures experienced during the launch, and thermal vacuum testing to create the temperature extremes the satellites will face while in orbit and expose any assembly issues. These tests allow the engineers to confirm that the satellites will withstand the launch and operate successfully when deployed. These tests also validate that the assembly line is fully qualified to move to high rate production.
"Our engineers have been working tirelessly with Thales and Orbital to build the Iridium NEXT satellites and ensure that they will work as designed for many years in space," said Scott Smith, chief operating officer at Iridium. "Our process must not only deliver high quality satellites for launch, but must assemble them efficiently and stay on track to meet our launch schedules. Our involvement in the design and development process, and the thorough test program they've endured, gives us confidence in the capabilities of these satellites. Now, with the first satellites completed and tested, we are one step closer to realizing our ultimate goal of delivering a truly next-generation, global network."
Chief Executive Officer Matt Desch added, "This milestone has been a long time coming, but signals that we're nearing first launch. It's been exciting to see our powerful new satellites take shape from a concept seven years ago into a working, fully tested vehicle, ready to be shipped to Vandenberg for launch. With the assembly pace picking up, we're all excited about the potential of these new satellites and look forward to getting them all in operation by the end of 2017."
The Iridium NEXT satellite network will consist of 66 low-earth orbit satellites, with six in-orbit spares and nine ground spares. The constellation uses a unique cross-linked architecture made possible by four antennae on each satellite, allowing them to communicate with each other and deliver a truly global network. Each satellite also features a main mission antenna that links the subscriber to this cross-linked infrastructure. Once fully operational, Iridium NEXT will offer greater bandwidth, data speeds and other functionalities (like global, real-time aircraft and ship surveillance).
During the last three months, the number of assembly, integration and testing engineers working on Iridium NEXT has doubled at Orbital's facility. With the vast resources and aerospace engineering talent in the Phoenix area, the facility plans on adding another 30 engineers as production increases to complete more than five satellites per month. Once completed, each satellite will remain in storage at the production facility until it's time for shipment to Vandenberg Air Force Base.
For more information about Iridium NEXT, check out Iridium's website.