Iridium is proud to provide aviation solutions that help keep crew, craft, and commuters secure with global flight safety services. Over the past few years, adoption of Iridium aviation services has increased dramatically, and as the market evolves, we expect to see a continued increase.
Last year, we announced that our Air Traffic Service (ATS) Safety Voice service, which is used for air traffic communications, had been adopted by more than 500 aircraft as of February 2017, an over 100 percent increase since 2015. Since then, the number has doubled again to over 1,000 active airframes using the Safety Voice service.
ATS Safety Voice provides aircraft operators with an alternative to existing high-frequency (HF) radio systems, replacing them with a secure satellite-based option for long-range communications. The ability to add a satellite system using the Iridium network as an alternative to HF systems has several benefits, including lower power requirements, lighter-weight equipment, and better quality and coverage, resulting in increased efficiency and fuel economy.
Earlier this year, the U.S. Federal Aviation Administration (FAA) released a Project Report indicating that they are working to deliver updated regulations and guidance on long-range communication services, including changes to the Aeronautical Information Publication (AIP), Aeronautical Information Manual (AIM), Operations Specifications B045, and Policy Letter 106, among others.
"We are quickly becoming the preferred supplier in the aviation industry for voice communications," said Michael Hooper, Director of Iridium Aviation Business. "We fully expect the continued growth of Iridium ATS Safety Voice adoption, especially given the anticipated regulatory updates from the FAA."
At 35,000 feet (or more!) in the air, safety is everything. As a reliable, lower-cost alternative to traditional networks, Iridium is the only satellite communications provider capable of offering critical air-to-ground flight safety voice and data service to aircraft around the globe.
As we near the end of the Iridium NEXT launch mission, we are working closely with our partners and regulators to leverage our newer, more powerful network for aviation safety services, and we are excited to introduce solutions that will address the ever-increasing demands of aircraft communication under our highly anticipated Iridium CertusSM broadband service.
"There are many new programs and new aircraft adopters that are going to be rolling out our services in the coming months. Things are already in motion, and we're excited to share more details soon!" Hooper said.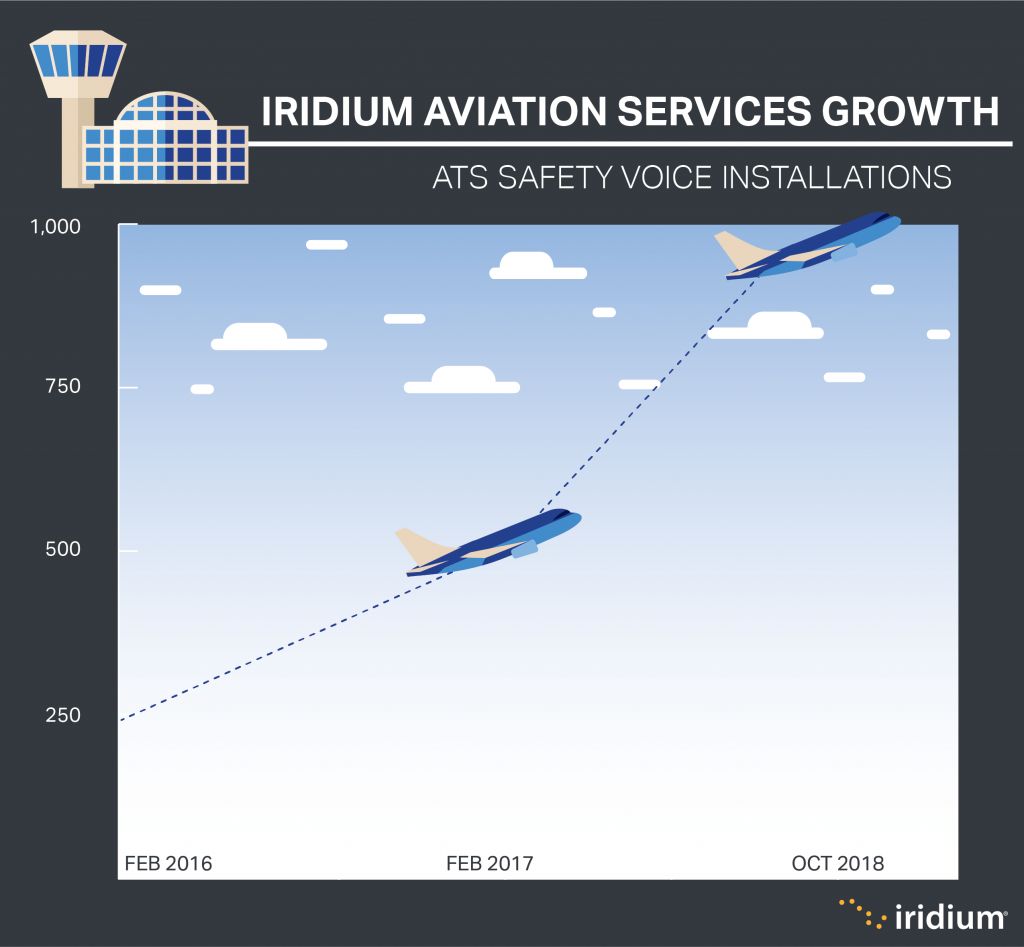 To learn more about Iridium aviation services, please visit https://www.iridium.com/solutions/aviation/.