« Back
Iridium and Thales Help Keep IMOCA Skippers Connected and Safe During Vendée Globe Round-the-World Race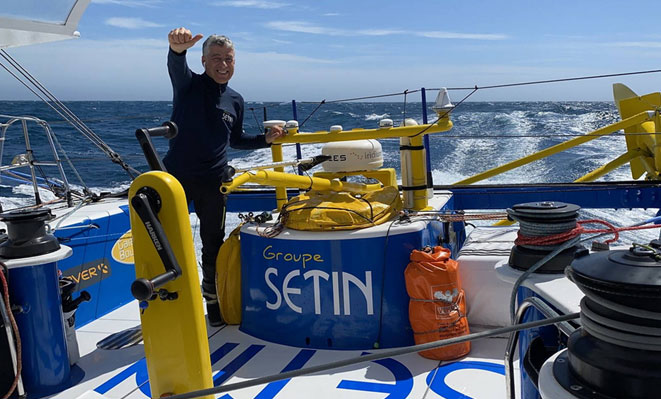 Iridium and our partner Thales are proud to be the official communications partner of IMOCA (International Monohull Open Class Association). IMOCA racing yachts are equipped with the Thales VesseLINK™ 700 L-band broadband terminal powered by Iridium Certus®, enabling high-speed global connectivity for skippers anywhere they sail.
Many IMOCA skippers are currently participating in the Vendée Globe – the single-handed, non-stop round-the-world yacht race that happens every four years. Since early November 2020, skippers have sailed over 28,000 nautical miles through some of the world's most treacherous oceans and are sailing towards the finish line in Les Sables d'Olonne, France.
Iridium is the only satellite network with reliable, truly global connectivity, regardless of weather conditions, which is why IMOCA skippers rely on the Iridium Certus Thales VesseLINK terminal to stay connected while they compete. Iridium Certus® enables IMOCA skippers to easily communicate with their shore teams, send photos and texts to friends and family, conduct interviews over Skype, and in the most extreme cases, get rescued.
Connectivity at sea became a lifeline for skipper Kevin Escoffier, who had to trigger his distress beacon and contact his team for help after his boat endured extreme damage caused by inclement weather a few weeks into the Vendée Globe. Following the successful rescue, President Emmanuel Macron of France checked in with Kevin and competitor Jean Le Cam, who made the rescue, in a call over the Iridium network.
Skipper Samantha Davies utilizes the connectivity provided at sea to keep in touch with family and to help promote her charity and boat namesake, Initiatives-Coeur. "It is thanks to [Iridium connectivity] that the public will be able to follow me, and we will be able to get a great interaction to raise as much money as possible for the charity, she shares."
"During an intense race like the Vendee Globe, so many things are out of a skipper's control," says Bryan Hartin, Executive Vice President, Sales and Marketing. "Iridium connectivity plays a vital role in ensuring IMOCA skippers have reliable connectivity to stay safe and in touch, as they race around the world's oceans."
As the 2020-2021 Vendée Globe nears its end, IMOCA skippers are giving it their all as they race to the finish line. The skippers continue to share updates from the ocean on Twitter using the hashtags #VG2020 and #VendeeGlobe and on the IMOCA and the Vendée Globe accounts. You can also follow the race in real time by tracking the skippers progress on the race tracker, and catch updates, news, and video clips on the IMOCA website.
Good luck and bon voyage to the IMOCA skippers!
Related Products & Services