« Back
Free Press: Journalism Beyond the Traditional Bounds of Geography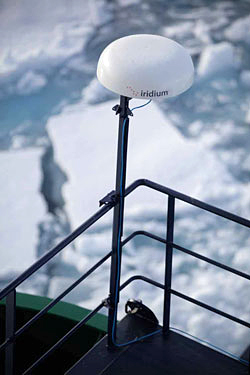 In today's world, freedom of the press doesn't just mean being allowed to report – you have to be able to report without interference, to convey stories from wherever they're happening. Sometimes, that means being able to report from the North Pole. In 2012, cinematographer and editor Kenneth Sorento and journalist Martin Breum were tasked with doing just that for the Danish Broadcasting Corporation (DR).
Sorento and Breum traveled with a Danish expedition to the hotly contested Arctic seabed, where several countries have laid claim to various parts of the ocean floor. The Kingdom of Denmark was sending a team to collect scientific data and symbolically plant flags – Greenland's and Denmark's, among others. Sorento and Breum were mentally and physically prepared for the trying journey to the harsh north, but they had one problem: How would they send their reports back to their employer?


Enter Iridium, which, as the only truly global satellite communications network, was uniquely positioned to keep Bruem and Sorento connected. The team worked with Polaris Electronics A/S and Iridium to establish their own communication channel, using the Iridium Pilot® and Iridium 9555 satellite phone for their journey.
At one point, the reporting team was tasked with sending DR a 2.5-minute news story – at ready-to-run HD quality. Sending such a huge file from such a remote location seemed impossible, but with some planning – Sorento had worked with a technician at the Danish Broadcasting Corporation beforehand to develop a special method of compression up to the job – they were able to compress the video from 2.23 GB down to 40.6 MB and cut it into three parts. DR received the files, combined them, and the story aired soon after, with very little loss in quality.
You can watch a video about the expedition, and you can find out more about the team's work here.