« Back
Everything You Need, Without Paying for More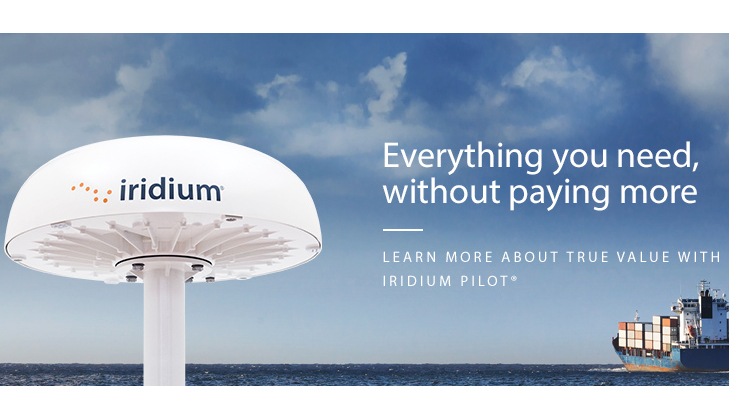 Iridium Pilot® is now more reliable, durable and rugged than ever, exceeding performance standards in providing dependable broadband connectivity anywhere the sky meets the sea. Built to perform in tough maritime conditions, Iridium Pilot will keep you and your crew connected, whether you are sending emails, updating a navigation report or placing crew calls without breaking the bank. Powered by Iridium's global LEO constellation of 66-crosslinked satellites, the Iridium network provides a robust connection that can withstand the harsh conditions of life at sea, anywhere on the planet – including remote arctic waters.
Sea the Difference
The Iridium OpenPort® Double Value Promotion provides exceptional value to the Maritime industry by offering reliable communications at a fair price through flexible payment plans with no long-term commitment. Starting in July 2015, you can double your data allowance and save up to 40-percent over other maritime solutions with Iridium Pilot. Iridium is offering four options consisting of two data plans and two voice and data (combo) plans. Below is the breakdown of each option:
Additional details of the Iridium OpenPort Double Value Promotion include:
• Receive double the monthly data allowance for the 75MB or 200MB service packages
• Receive double the monthly data/voice allowance for the Gold or Platinum service packages
• Standard overage rates apply for each service package
• Requires 128/Kbps data speed selection
• No minimum Term Commitment required (month-to-month service)
• 18 month price guarantee
• Not eligible with any other promotion
• Program is valid for all activations beginning July 1, 2015*
*Iridium reserves the right to discontinue this Promotion offer at any time. In the event of such discontinuation, Iridium's total obligation will be limited to crediting Service Provider's accounts with amounts due determined by Iridium to be valid at its sole discretion.
For more information about this promotion, please go to www.iridiumpilot.com/seathedifference.