« Back
Pedal to the Metal: Iridium Employees Ready For Rebelle Rally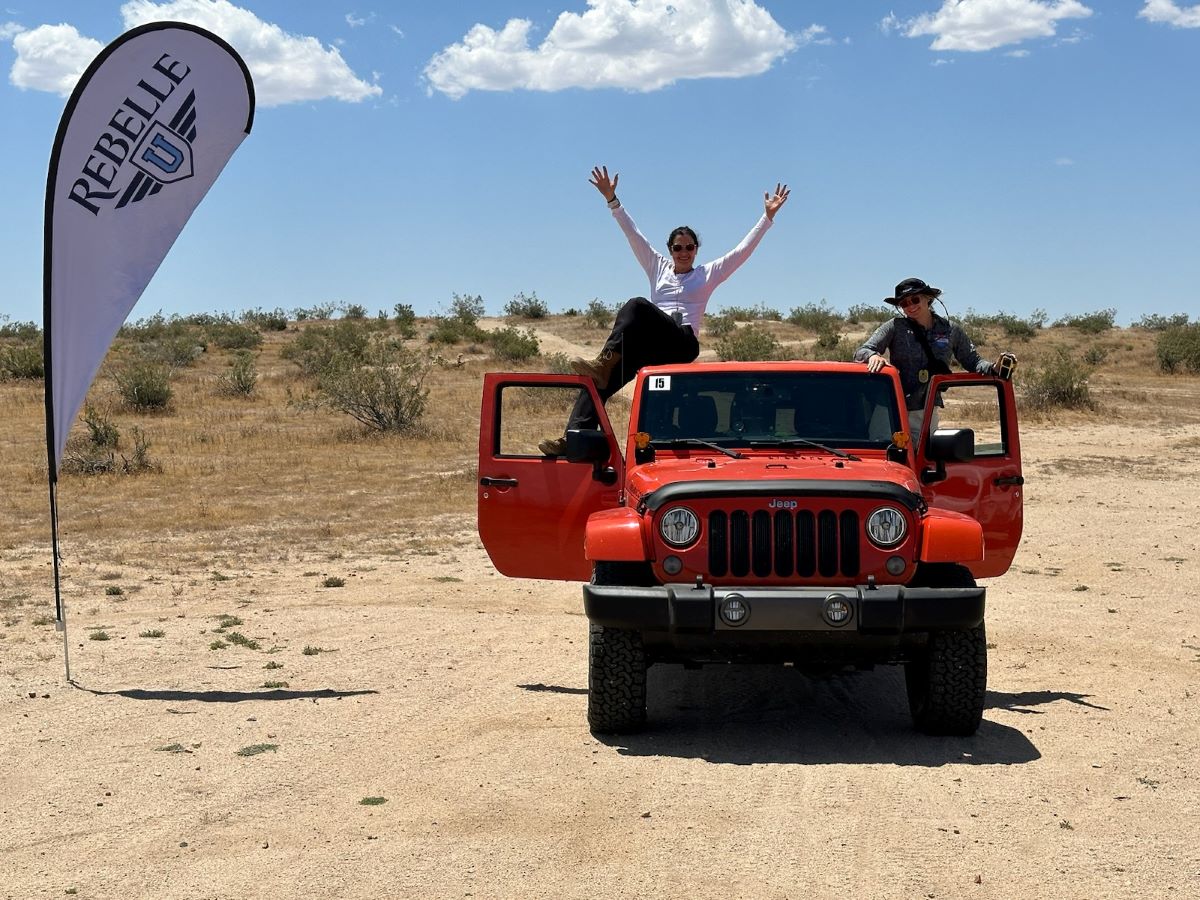 Five Iridium® employees are gearing up for the Rebelle Rally this October. The first women's off-road navigation rally in the United States and the longest competitive off-road rally in the nation, the Rebelle Rally blends the love of driving with the ultimate challenge of precise map and compass navigation over 8 days of competition.
Covering more than 2,000 kilometers (approximately 1,200 miles) across the Nevada and California desert, competitors can use only maps, compasses, and a roadbook to find both marked and hidden checkpoints. With no cell service and limited access to everyday technology, Iridium stands as the official communications and safety partner for the Rebelle Rally.
Teams consist of two members: a driver and a navigator. This year, Iridium will have two teams participating:
Team Desert Crush (#163): Director of Program Management, Isa Budge, and Data Scientist, Lauren Severson
Team NEXT Wave (#133): Senior Engineer, Cindy Swazey, and Principal Engineer, Annabelle DaSilva
Senior Engineer, Kimberly Carte, is also training alongside the group as a substitute teammate.
In preparation for the rally, the women are dedicating many hours and weekends of training both on the road and in the classroom at Rebelle U. The teams are learning a series of metric conversions, how to plot points on a map, general navigation, and more. They're also practicing off-road driving and car maintenance, such as what wheels to purchase and how to lift one's vehicle in an emergency.
"The training teaches you to thrive not just survive. You learn what you need to be prepared for to enjoy it," said Isa. "This includes tips on what to pack in your car so that you have the bare necessities without any of your materials getting lost or damaged when you're driving over rocky terrain."
For competitions like these, preparation is a key determiner of success. Iridium's COO Suzi McBride, who previously participated in three Rebelle Rally's is excited to pass the baton to these future Rebelles and is offering advice on what to expect during the competition:
"I am so proud of Iridium for sponsoring this event and for sending two teams to the 2023 Rebelle Rally," said Suzi. "It's a great showcase for how Iridium is used in the remote outdoors, for safety and for one of the most challenging competitions." She continued, "I have told the new Iridium teams – you will learn you can dig deeper and do more than you ever imagined in this process. You will not master the Rally in one year so don't expect to win or even be top 10. Work to get a little better each day, be kind to your partner as there will be very tough days ahead and be present in the moment and take it all in and enjoy!"
One of the most impactful courses during training was the Rebelle Enduro Challenge (REC). With limited time to plot and calculate, the teams are given specific pathways where they must drive at exact speeds and times to reach their correct destination. "The car does not stop moving," said Lauren. "The REC's last 20 minutes and there's no guarantee that your calculations from the morning will get you to the correct point with the prescribed speed."
The accuracy of their coordinates, which are used for scoring, is determined by Iridium Connected® YB3 trackers. At each marked or calculated checkpoint throughout the Rebelle, competitors signal their location using the device and the appropriate points are awarded. YB3 trackers are also attached to each vehicle for safety tracking and for friends, family, and coworkers to follow their location live online. Along with partners Icom, Roadpost, and YB Tracking, Iridium keeps Rebelles and the support staff safe and connected while they race along the southwest desert.
Training has been a challenging but rewarding experience for the women, since a lot of the skills they are learning are not instinctual. The Rebelle's are used to relying on their cellphones for communications and navigation, so learning to travel without them has felt empowering. They hope that their experience inspires others to learn more about the competition and become involved.
"I don't know if I would have the opportunity to try off-roading had I not signed up for this. I also wouldn't have met or gotten to know these amazing ladies from other parts of Iridium or the other talented women competing," said Isa. "The expert off-roaders who work with Rebelle Rally have always spoken to what an amazing privilege it has been to have Iridium support them. We are very proud to represent Iridium at the Rebelle Rally."
Iridium is proud to be the exclusive safety and communications partner for the Rebelle Rally and to have Isa, Lauren, Cindy, Annabelle, and Kimberly participating this October.