« Back
Iridium to Host BVLOS Workshop at XPONENTIAL 2022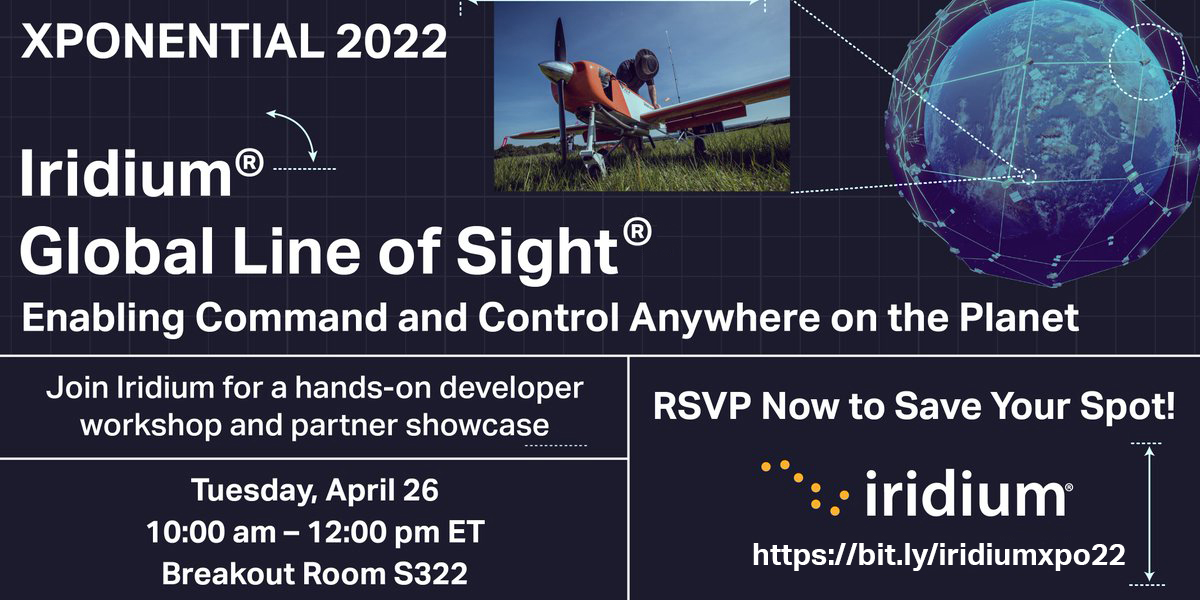 Global Line of Sight® – Enabling Command & Control Anywhere on the Planet
MCLEAN, VA., April 18, 2022 – Iridium Communications Inc. (Nasdaq: IRDM) will host a special UAV developer session at AUVSI's XPONENTIAL convention, on Tuesday, April 26, 2022, from 10:00 a.m. Eastern Time (ET) to 12:00 p.m. in breakout room S322. Free to attend, this session will be both an Iridium partner showcase and core technology workshop, providing UAV engineers and developers with an opportunity for hands-on experience with Iridium Global Line of Sight solutions.
Convention attendees interested in participating can RSVP at this link: Iridium UAV Developer Workshop at XPONENTIAL
Attendees will learn how solutions currently available from Iridium and its partners can help solve Beyond Visual Line of Sight (BVLOS) challenges and enable truly global UAV operations. This is made possible by Iridium's suite of partner products and core modules that provide scalable size, weight and power (SWAP) options as needed based on system design.
XPONENTIAL is scheduled for April 25 – 28 at the Orange County Convention Center in Orlando, Florida. AUVSI is the world's largest nonprofit organization dedicated to the advancement of uncrewed systems, robotics, and autonomy.
About Iridium Communications Inc.
Iridium® is the only mobile voice and data satellite communications network that spans the entire globe. Iridium enables connections between people, organizations and assets to and from anywhere, in real time. Together with its ecosystem of partner companies, Iridium delivers an innovative and rich portfolio of reliable solutions for markets that require truly global communications. In 2019, the company completed a generational upgrade of its satellite network and launched its new specialty broadband service, Iridium Certus®. Iridium Communications Inc. is headquartered in McLean, Va., U.S.A., and its common stock trades on the Nasdaq Global Select Market under the ticker symbol IRDM. For more information about Iridium products, services and partner solutions, visit www.iridium.com.
Press Contact:
Jordan Hassin
Iridium Communications Inc.
Jordan.Hassin@iridium.com
+1 (703) 287-7421
Investor Contact:
Kenneth Levy
Iridium Communications Inc.
Ken.Levy@Iridium.com
+1 (703) 287-7570
Twitter: @Iridiumcomm