« Back
How 24 Women Are Helping Lead Global Environmental and Health Research Through Scientific Exploration of the North Pacific Gyre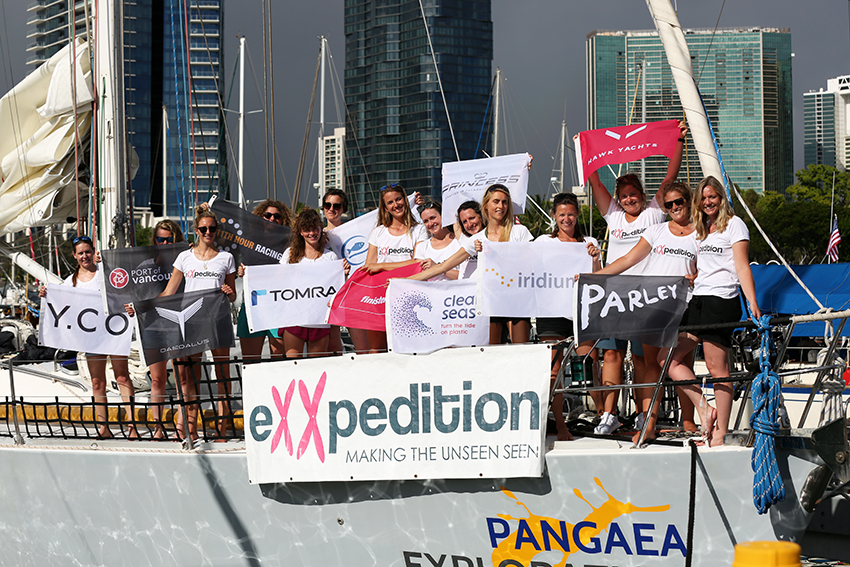 Project Spotlight: Iridium® and Global Marine Networks (GMN) collaborate to provide the eXXpedition North Pacific with reliable satellite connectivity. 
On June 25th, a vessel named the Sea Dragon, began the first leg of a challenging 3,000 nautical mile voyage sailing from Hawaii to Vancouver, to evaluate the collection of ocean plastics and pollution in the North Pacific Gyre, also known as the Great Pacific Garbage Patch.  Participating in the eXXpedition North Pacific is a team of 24 women. For each of the two legs, 14 crew members will be on board at all times, with four remaining on board for both legs. This crew specializes in the science, technology, engineering and math (STEM) fields ranging from environmentalists and marine scientists, to researchers and environmental engineering students. Alongside the STEM crew are also artists, filmmakers and communications specialists to help capture and share this amazing journey. eXXpedition was founded with a mission to "…explore the issue of plastics, chemicals, endocrine disruptors and carcinogens in our personal and global environment that can cause disease." Their aim is, "…to engage women in scientific narratives relating to the consumer choices they make, and their long-term health impacts on themselves and our environment."1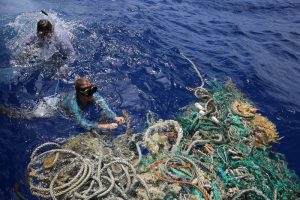 Since their departure, the crew has been posting daily updates from the Sea Dragon, chronicling their findings as they happen.  To facilitate these communications, the eXXpedition North Pacific partnered with Iridium and Global Marine Networks (GMN) for their communications hardware and airtime needs.  As the only satellite network able to provide reliable and truly global connectivity, Iridium is a natural fit to support this cause making sure the team is always connected regardless of location. The crew is equipped with an Iridium Pilot® terminal and multiple Iridium Extreme® handsets, enabling internet access, the ability to make website updates, send emails, post videos and blogs, and make phone calls while out in the remote waters of the North Pacific Gyre.
To date, the crew has collected vital data to help gain a better understanding of how much plastic is accumulated in this region of the Pacific ocean.  For instance, on the ninth day of the voyage, the crew came across a large mass of fishing nets roughly the size of a boat's cockpit.  The crew was able to place a tracker, provided through a partnership with the Hawaii Pacific University, on the mass of discarded fishing gear, known as "ghost gear," to ensure it can be monitored over an extended period of time.  According to their findings, tracking "ghost gear" is crucial to their mission, as it makes up a large percentage of ocean plastics.2 To learn more about this discovery, please check out their blog and video here –http://exxpedition.com/2018/07/05/day-9-crew-update-tracking-marine-debris/
In addition to these large finds, the crew has also come to realize that signs of pollution are evident in small ways as well, even while 600 miles off the coast of Hawaii.  With a tool known as a Manta Trawl, the team collected small ocean samples all containing microplastic particles indicating the depth of the kinds of pollution found in the earth's oceans.  To learn more about the Manta Trawl and insights about the smaller ocean samples collected, check out this blog and video from the sixth day of the voyage here –http://exxpedition.com/2018/07/02/day-6-crew-update-making-the-unseen-seen-through-citizen-science/
Iridium is proud to help support the eXXpedition North Pacific and looks forward to more exciting updates from the crew this month.  The first leg concluded on July 15th and the crew will begin the second leg of their journey on July 21st. To learn more about the eXXpedition North Pacific, track the Sea Dragon and access crew videos, blogs and more, please visit http://exxpedition.com/
To learn more about previous eXXpedition explorations, please visit http://exxpedition.com/expeditions/past-expeditions/
1 http://exxpedition.com/about-2/the-science/
2 http://exxpedition.com/2018/07/05/day-9-crew-update-tracking-marine-debris/