« Back
First-Time Adventurer: Hiking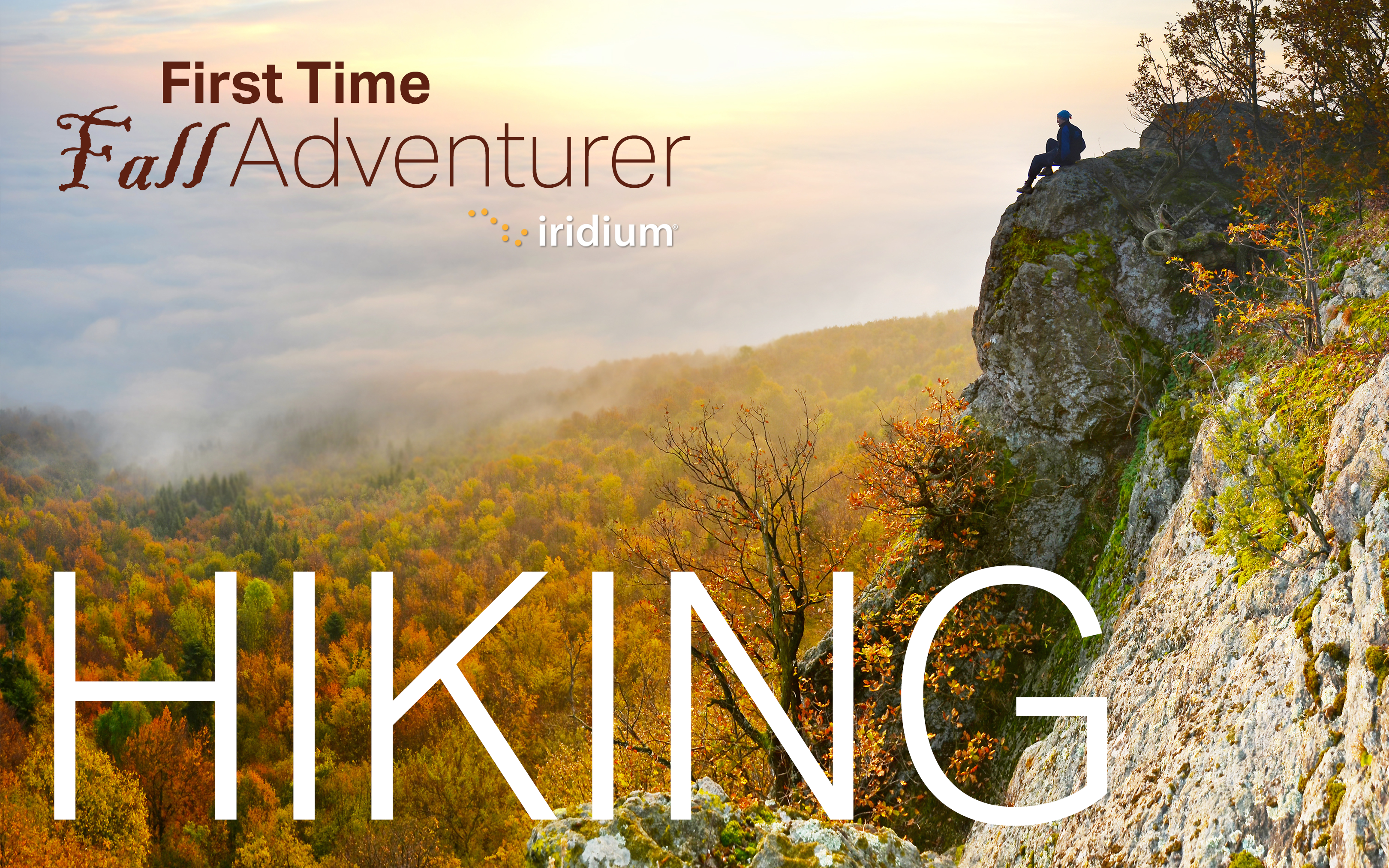 Join us this Fall in getting out and trying new adventures! Not sure where to start? We've got some tips for you.
Hiking is a fun way to get outside and try a new outdoor activity. With so many trails and places to explore, you'll feel like a pro in no time! As you prepare for your adventure, use our tips below to help you prepare for your first fall hike!
Choose the right route.
As a first-time hiker, you'll probably want to start small. It's also important to select the right trail for your fitness and adventure level. There are plenty of resources to help you find the perfect trail for you! Check out a guidebook or hiking website, ask your friends, call a ranger station, or contact a local hiking organization to learn more about the different trails near you. Part of choosing a trail is also considering how far and high you want to hike. An average walking pace is about 3 mph (5 km/h), but your hiking pace may be slower depending on your trail's terrain and elevation.
Familiarize yourself with the trail.
Once you've got your trail picked, make sure to learn a bit about it before you head out! Find and print a map of the area, and check what's nearby. Is there a rangers' station or picnic area? What about scenic peaks or lakes? You also may want to call the park office to determine if you need a hiking permit and for any preparation recommendations specific to that trail.
Check the weather and trail conditions.
In the days leading up to your hike, make sure to check the weather and trail conditions. Then, check again in the hours before. This information will help you decide exactly how to dress and what to pack. It also will tell you if you need to reschedule due to unexpected bad weather. Keep in mind, if you're hiking toward a higher elevation, the weather conditions may be drastically different than at the trailhead or a nearby town. Additionally, trails can close occasionally for repair. It's always a good idea to call the park before you leave for your hike to check all conditions.
Dress up!
You can get hiking gear at any local sporting goods store! The key is to get the right hiking shoes (and socks!) and bring layers. If you are hiking up in elevation, it is especially important because the weather can change so dramatically. Skip cotton clothes – they can get damp and uncomfortable. Instead, opt for synthetics or exercise gear. When it comes to your hiking shoes, there are many options – so do your research and ask around! Wool or synthetic socks will help keep your feet comfortable, but you'll probably also want to bring blister dressings, just in case.
Pack the essentials.
Navigation (paper or sat device)
Iridium® satellite navigation and tracking device. Click here to view some of our partner products and find a retailer near you.
Sunscreen
Water (Make sure to check the availability of water on your trail. If there is none, bring extra!)
Flashlight
First Aid (Click here to find an REI Wilderness First Aid Class near you!)
Knife
Lighter
Dried fruit, nuts, or an energy/protein bar.
Bug spray (depending on location)
Tell someone where you'll be.
If you're planning to hike alone, it is important that someone else know where you're going and how long you'll be gone. Leave your plans with a family member or friend. Also, it's a good idea to keep a note with your route plans inside your car, in case a search-and-rescue team needs to come looking for you. (Make sure you don't leave it in plain sight, though, for "trailhead thieves" to see!)
When hiking alone, it's also smart to bring a satellite-enabled emergency device. Many Iridium partners offer small devices that work anywhere on the planet – even in remote areas, like hiking trails, where your cell phone won't connect. There are several options powered by the Iridium network, ranging from simple one-way emergency SOS devices, to small two-way communications device with SMS texting features, as well. Click here to browse our partner products and find a local retailer who can help you through your purchase.
Leave No Trace
Before you head out, familiarize yourself with the seven principles of enjoying the outdoors in a sustainable way.
Plan ahead and prepare.
Travel and camp on durable surfaces.
Dispose of waste properly.
Leave what you find.
Minimize campfire impacts.
Respect wildlife.
Be considerate of other visitors.
Have Fun!
Now that you're ready for your hike, it's important to be prepared and stay safe – and most importantly, have fun!