« Back
Enabling Vital Trade Routes with Critical Communications in Nepal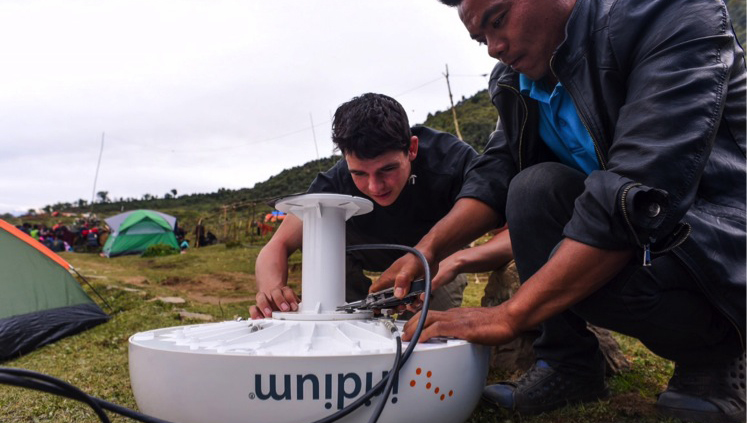 Guillermo (Willie) Benegas and his twin brother Damian lead Benegas Brothers Expeditions, and were guiding an excursion on Everest when the first earthquake struck Nepal. As the expedition quickly turned from adventure to rescue mission, the team developed a plan to provide relief through a system of local porters, hired to carry food and supplies to remote villages throughout the country. The project, called "Nepal Relief: Building a Path to Recovery," is designed to create jobs, keep much-needed aid money in the region and reestablish important trade routes between communities. Here's Willie's account on how the use of the Iridium Pilot® Land Station helped them succeed in their efforts by not only providing logistical support, but also connecting locals back to loved ones in areas cut off by the disaster.
"One of the key elements of this project, 'Nepal Relief: Building a Path to Recovery,' that has enabled us to succeed is access to a reliable communication system. During our planning and organization, Iridium provided us with the Iridium Pilot Land Station, which allowed us to set up quickly for deployment in a remote location. Powered by the Iridium® global satellite network, the equipment gave us the ability to communicate worldwide with our logistics partners, enabling real-time updates on weather conditions and ETA of supplies. But beyond the technical aspects of our project, and even more importantly, the Iridium Pilot Land Station provided the village of Laprak with a means to communicate with loved ones who had been separated since the first earthquake on April 25th.
I have been using satellite modems and telephones for years in my job as an Everest mountain guide. I have to say that this unit far exceeded my expectations. We have three Iridium Extreme® satellite phones with us as well, which have allowed us to create an invaluable network with access to communication 24/7. To get the project off the ground, we were sending guides on remote, exploratory missions to other villages where we are trying to provide relief in the most extreme terrain. Knowing that they were equipped with these reliable tools gave us an incredible peace of mind. We knew that if anything went wrong they could contact us immediately in an emergency situation, and we would be able to respond with help. As of today, we've moved 20 metric tons of relief supplies to remote areas of Nepal through our system of hired porters and are continually working to move supplies to all the villages above Laprak. This project will take at least one more month, with a goal to provide enough supplies to last local communities three months.
In the end, I am the most grateful for one particular moment that will stay with me forever: seeing the smile of a mother who was finally able to talk to her son who had been air-lifted to Kathmandu. For 20 days, she had no form of communication with him and, as a result, no idea if he was even alive. To see her smile and her eyes shining when she heard his voice again for the first time was amazing. I am so grateful to Iridium for the support they've provided to us through equipment and connectivity, but the locals in Laprak must be the most thankful. In so many ways, Iridium has provided a truly critical lifeline to the people of Nepal."
– Guillermo (Willie) Benegas, Benegas Brothers Expeditions