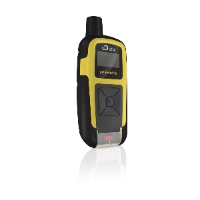 The YB3 is a rugged tracking and messaging device that is ideal for both handheld use and permanent installation. It provides regular GPS position reporting, has a selection of alerting facilities, and allows two-way messaging. It has Bluetooth on-board, compatible with Android and Apple devices, to allow more complicated two-way messaging, blogging and more. It is deal for consumer, corporate and government use.
The YB3 unit is a small handheld unit which is designed to provide tracking and two-way messaging to personnel in the field. It can also be used for fleet management on land or sea.
Tracking
The unit will report its position at regular intervals ranging from every five seconds to once per day. There is also a one-off manual position report which can be activated by the user. It can transmit over 2500 position reports on a full battery, the highest in its class.
Alerting
As well as a dedicated red button alert, the unit provides timer, dead-man's-switch, temperature, motion and geo-fence alerts.
Messaging
Send short preset messages using the onscreen menus to e-mail and SMS destinations, and receive replies direct to the screen. Using Bluetooth and the Yellowbrick app you can pair with your Apple or Android tablet or phone and use it to send longer messages. The YB3 allows multiple tablet/phone users to send messages using Bluetooth, with their own accounts.
Rugged and Robust
Used by the world's biggest ocean races, the unit is fully waterproof (IP-67) and robust (MIL-810F/G spec). YB3 is designed to last.
Other Applications
Use the YB3 to integrate with other Bluetooth/serial sensors and send back remote data from anywhere on Earth.
Accessories
For permanent mounting, a YB3 mounting kit is available allowing fixing to poles up to 1″ diameter or attachment to all RAM mount kits. Permanent power unit, and external sensor bridge also available.
How It Works
The YB3 tracker is a rugged and fully self-contained battery operated tracker which works anywhere on Earth.
It has an easy to read screen, buttons which can be used with gloved hands, and a dedicated alert button for emergencies.
The tracker will wake up every so often (e.g. every 15 minutes), obtain a position using the GPS satellite network, and then, in seconds, transmit that position back to YB HQ using the Iridium satellite network. The message is relayed to us from Iridium, and then we visualize the positions on an easy-to-use web-based viewer.
The YB3 also allows short messages (like SMS, social media updates and short emails) to be sent using preset messages on the device, or a paired Bluetooth device (such as an Apple or Android smartphone/tablet) and the YB3 app. This allows for full two-way communication wherever you are, even when out of mobile network range. Each YB3 gets its own e-mail address when you send messages to people using the device they will receive messages from your YB3 email address or via SMS. If they reply to those messages, whether you are in your back garden or at the top of Everest, the message will be sent to your tracker.
As a YB3 user you get to control where alert messages are delivered — you specify a set of e-mail addresses or mobile/cell numbers for SMS alerts — if you fire an alert, an alert message will be sent to them with your latest position information.
For consumers, YB3 provides a simple web-based system to manage your tracker and your account, keep your credit topped up, and blog about your adventures.
For corporate and government use, YB3 provides a fully-featured web-based back-office system to manage fleets of trackers, with group configuration, user-defined alert escalation, reporting and more.
There are a range of accessories available to complement the device.
Technical Specifications & Features
Key Features
4-button keypad plus specific 'alert' button
Bright OLED screen for information display
Full 2-way communication system
Over-the-air reconfiguration of key parameters
USB connection for charging and for data transfer
Truly Global Operation, using the Iridium satellite network
Long battery life (over 2500 transmissions on a single charge)
Integrated antennae, plus option to use external GPS/Iridium antennae if required
Alert Features
Dedicated red alert button
Timer (set the timer, if not cancelled in X minutes then alert goes off)
Dead Man's Switch (press a button every X minutes or alert goes off)
Temperature (high or low temperature)
Collision (if collision is detected)
Geo-fence (set radius, and alert will go off if the unit moves outside that area)
Bluetooth loss (fire an alert if Bluetooth connection is lost, e.g. remote Bluetooth fob or sensor)
Power loss (fire an alert if USB connection or external power is lost)
Messaging Features
Send short preset messages using only the Yellowbrick, delivered by e-mail or SMS
Receive reply messages via e-mail or SMS on the unit
Send longer messages, or blog articles, using a paired Bluetooth device (Apple/Android)
Update your Twitter/Facebook status
For consumers, a web blog is provided to document your adventures
Miscellaneous
Can be used with external GPS and Iridium antennae
Use Bluetooth or serial connections to transmit data from remote sensors via the Yellowbrick
Accessories Available
Universal Mounting Bracket (for poles up to 1" diameter and all RAM Mounts)
Soft Pouch
Permanent IP-67 Power Block (9v to 30v input)
Multi-way charger
Multi-country charger
External antennae
Sensor input unit bridge unit (multiple A/Ds, RS422/232 inputs)
Technical Specifications
Dimensions: 144 x 76 x 36mm (plus antennae)
Weight: 305 grams
Screen: Single Colour OLED 26 x 35mm
Storage Temp: -40 to 85 deg C
Operating Temp: -30 to 60 deg C
Operating Environment: < 75% Relative Humidity
Testing: MIL-810F/G for vibration, temperature and shock
Testing: IP67 sealed against dust and water ingress to immersion of 1m
Power: mini-USB (5v)
Battery: LiPo 5.3Ah
Iridium Modem: Iridium 9602 SBD
Iridium Antenna: Sarantel 3105 Dectafilar
GPS Antenna/Chipset: Taoglas 10D/Trimble
Bluetooth: Class 2
Battery Life (ideal conditions)
5 minute reporting for 9 days
15 minute reporting for 26 days
60 minute reporting for 99 days
4 hour reporting for 306 days
24 hour reporting for ~ 700 days
Certifications
Iridium Certified
IP-67 (submersion in water to 1m for 30 minutes, no dust ingress etc.)
MIL810F/G (drop testing, temperature extremes, humidity etc.)
CE Marked
WEEE/RoHS Compliant
Apple Certified