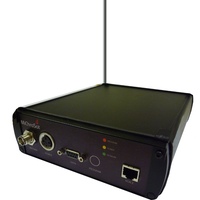 Overview
MiChroSat 2403 is a low rate data communications solution developed by Wireless Innovation for deployment in remote locations.
Based on the Iridium 9522b modem, MiChroSat 2403 provides global coverage via a network of Low Earth Orbit satellites, supplying data connectivity via direct internet dial-up or via asynchronous modem to modem connections.
MiChroSat 2403 is a flexible Iridium 9522b based solution that can be deployed in a range of remote environments to supply connectivity for a variety of applications. MiChroSat 2403 provides secure, reliable connectivity in places where PSTN networks don't reach and where GSM coverage is poor.
Uses Iridium CSD or RUDICS Service
"Out of the Box" Ready
IP 44 Rated
Programmable via AT Command set interface
Based on Iridium 9522b modem
Full Developers Guide and Technical Support included
Complete, development-ready package
Technical Specifications & Features
Hayes Commands
Automatic Configuration
RS-232 Isolation
Voice Integration
Alarm Reporting
I/O Functionality
Physical
Weight 995g Approx.
Dimensions 225 (l) x 170 (w) x 55 (h) mm
Power
Input Voltage +9 to +30 DC (12 or 24V DC Nominal)
Power Consumption @ + 12V
Sleep: 15mA
Idle: 150mA (Approx)
Transmit: 900mA(Average)
Environmental
Operating Temperature: From -30°C to +70°C
Storage Temperature: -40°C to +85°C
Relative Humidity: 95% IP44 Rated
Interfaces
RS-232: DB9 Male Connector
Voice Port: RJ-45 Female Connector
Power: Amphenol C091-31G003-100-2 Connector
RF Interface 1 TNC Female Connector
Modem Power Consumption
Input Voltage +9 to +30 DC (12 or 24V DC Nominal)
Power Consumption @ + 12V
Sleep: 15 mA
Idle: 700 mA
Transmit: 1200 mA (Average)
RF Interface
Certification
FCC, Industry Canada & CE. RoHS & WEEE