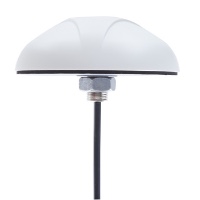 Spartan STS.01 Iridium Transceiver Antenna System
The Spartan STS.01 Iridium Transceiver consists of an advanced Taoglas Iridium certified patch antenna and Iridium 9602 transceiver with RS-232 interface, all enclosed in a robust, IP67 waterproof through-hole mount enclosure.
Get reliable connectivity for your devices as the Iridium global satellite constellation operates at full capacity even in circumstances when terrestrial networks may run into challenges.
Certified by Iridium, the Spartan STS.01 supports short burst data with a maximum mobile originated message size of 340 bytes and a maximum mobile terminated message size of 270 bytes. There is no SIM card required.
Typical applications include:
International trucking and haulage
Remote asset monitoring
Maritime communications
Mining, oil and gas infrastructure monitoring
Emergency operations
Business continuity
The product features major advancements in reliability over existing systems, delivering:
Key Benefits
One multi-conductor cable required
Quick and Simple Installation
Higher radio performance (no RF coax losses)
Low power consumption
Full protection against load dump
ISO16750 Automotive Reliability Tested
SKU: STS.01.A.0115FB
Technical Specifications & Features
High Performance outdoor antenna
Iridium patch Antenna and Integrated Iridium 9602 Transceiver
3-Wire RS-232 interface
Integrated power regulation with 8-32V input voltage range
Cables and Connectors Customizable
ISO16750 Automotive Reliability Tested
115mm Multi-Conductor Cable Stripped 37mm, Tin 8mm
Enclosure: White, toughened ABS-Polycarbonate Alloy UV stabilized
IP67 Waterproof, IP69K Pressure Washing
Safe Dims: 145.6*147.5*33.35mm (5.73*5.8*1.31 inches)