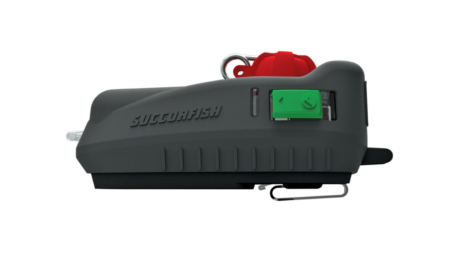 Guarantee the safety of personnel and lone operatives working in extreme conditions anywhere in the world.
Revolutionary for those requiring the ultimate safety and rescue system, the SC4 provides total accountability and connectivity for personnel working in remote, dangerous or challenging global environments on land and sea.
Incorporating dual Iridium satellite and GPS/GPRS/GSM global technology as well as AIS SART, COSPAS-SARSAT 406- 121.5 and ISM band radio, the SC4 transmits accurate, real time tracking, positional and communication data to within TWO METRES worldwide.
Its robust, non-intrusive, portable design makes it easy to deploy whilst a simple, multi-platform, SOS alert function instantly transmits casualty position and tracks actual movement until rescue.
No other product offers a single, 'all in one' solution or the same high level of personnel safety, communication and rescue for critical operational applications.
Technical Specifications & Features
Internal antenna array PLB/AIS/SART/121.5/406MHz search and rescue beacon (SAR)
Positive buoyancy
Built to Milspec 810G/vibration/ shock/temperature
Global coverage via LEO satellite (Iridium) constellation
Real time GPS position
GPS, GLONASS, Beidou, Galileo and SBAS Navigates to -162dBm and tracks to – 166dBm providing improved performance in harsh environments
Simultaneous multi-constellation positioning
9 axis motion tracking engine
Operational depth to 40m
3G Quad band GSM module
Iridium 9603 (SBD) modem
Triple axis accelerometer
Intelligent transmission protocol
Auto man-over-board (MOB) activation GPS accurate to two metres
MOB range distance of casualty to vessel 20 miles (clear LOS conditions)
Manual PLB emergency activation
USB and wireless charging options Independent six year battery life cell for emergency operation
Motion sensor for unit activation – max battery life
Bluetooth BLE4.0
Waterproof to 40m – dive ready
Audio and visual status confirmation
Auto check in and location report position via on-line mapping software
ISM band radio
Data output onto onboard plotter, visual display
SOS L.E.D – operational during emergency transmission periods, SOS morse code message
NMEA 0183/NMEA2000 capability Man-over-board GPS location information utilising AIS-SART
Send device location and communication messages via e-mail and text
Local and 'online' GUI software
Encrypted AES 256 data protocol
1.8" communication display screen option Send and receive communication messaging
Multiple intelligent device power management options
Multi-constellation GNSS Ultra-sensitive GPS
Satellite-based augmentation system (SBAS) compliant
Wi-Fi