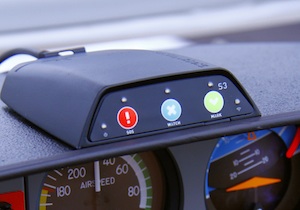 The Spidertracks aircraft safety system comprises the Spider S3 and the Spidertracks website. The system is designed to improve both the efficiency of every flight your aircraft fly, as well as the safety of all aircraft operations. The S3 uses the Iridium 9602 SBD transceiver and has an integrated antenna, meaning the only external connection required is a power source. This makes the S3 very easy to install in your aircraft. The keypad allows pilots to send up to four pre-programmed text or email messages to nominated recipients. Pilots can manually activate SOS alerts in the event of an accident, or allow the watch system to generate alerts automatically.
How it Works
The Spider S3 receives location, speed, altitude and direction information from the GPS network and transmits it through the Iridium satellite network using Short Burst Data. Users then log into the spidertracks web app, where this information is received and displayed using the user friendly spidertracks website. Multiple aircraft can be viewed on one map, and operators can get more detailed tracking information about individual aircraft. Set up and management of the system is done by users, online. There can be multiple users and no per user license fees.
Also read about Spidertracks Spider S3 Aircraft Tracking in the Alaskan Skies.
Technical Specifications & Features
Size: 4 1/2 in. x 3 2/5 in. x 1 in.  (114mm x 86mm x 25mm)
Weight: 5 1/2 oz (155g)
Operating Temperatures: -13 ~ +158°F (-25 ~ + 70°C)
Transceiver: Iridium 9602 SBD transceiver
Input Voltage + 10 ~ +32 V DC
Power Consumption: Operating <-100mA at 12 V DC
Position Accuracy: within 8 ft (2.5m)
Power Source: Aircraft auxiliary power. The unit can be hard wired by an aircraft engineer DO-160E Section 21 Compliant