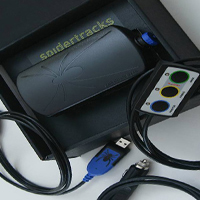 Spidertracks - Satellite Tracking
Spidertracks is more than just a tracking system: as well as knowing exactly where people and valuable assets are at any moment in time, it can also tell you how they are. If something goes wrong, and the website loses contact with the spider device, the system will automatically send text and email alerts to the right people, including rescue services, within minutes of the accident occurring. Because the alert is generated by the system, it doesn't rely on the device surviving an accident, so it will always be sent, enabling rescue services to locate the site quickly based on the last transmitted position. With Spidertracks, no one needs to be lost at sea, on land, or in the air again.
It combines a portable tracking unit, the Spider, with a web-based client interface, enabling users to access their flight following and tracking details from anywhere at any time via the internet. Powered by a 10 V – 32 V power source, it has no external antenna and can be moved between aircraft or vehicles, so it doesn't require expensive installation or certification. Partnered with Iridium, it offers global coverage.
Spidertracks also offers simple two-way global communication. Customers can send and receive texts with a compatible phone from anywhere on earth, via Iridium, through the Spidertracks website—ideal for anyone who needs to communicate from a remote region without GSM/cellphone coverage.
The unit is portable, with the tracks accessed from any internet connected device, and it is AFF compliant, offering a cost-effective, simple and reliable tracking-based safety system for anyone working or traveling in remote locations or risky situations.

Technical Specifications & Features
Truly portable – can be moved between aircraft or vehicles
Integrated antenna – nothing to attach to the aircraft or vehicle
Simple to install – just plug into auxiliary power and start tracking
Cost-effective – no installation or certification costs
Flight following and tracks are accessible by nominated users from anywhere, any time via the internet
No user licenses required
With active monitoring, the system watches over flights 24/7
AFF compliant
Two-way communication between the pilot or driver and the operations base or other cellphones with spidertxt global texting
Simple status update communication from the pilot or driver to the website and cellphones using canned messages sent via the keypad
Flight records enable more effective planning and increased productivity
Multiple vehicles or aircraft tracks can be plotted on one map, enabling tasking on the go
A simple, cost-effective tracking and safety system that works
Length: 130 mm
Width: 62 mm
Height: 31.5 mm
Weight: 360 g
Operating Temperature Range: –25ºC to +80ºC
Sealed to IP67
Input Voltage: +10 VDC – +32 VDC
Power Consumption: Operating = MA at 12 VDC
GPS Type: Navman SiRF star 111 GPS
Position Accuracy: within 10 m