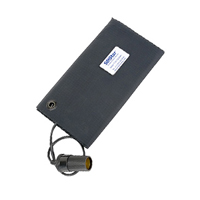 SolStar T12i Solar Charger
The SolStar™ T-12i charger has enough power for all Iridium satellite phone models. The panel stows easily in your pocket while you adventure or work across the planet. Grommets enable secure tie down (in cases of wind or while on the move), and a five-piece cable kit is included.
Visit the SolStar website for more information on the SolStar™ T-12i charger.
Technical Specifications & Features
The SolStar™ T-12i charger:
performs well in hot and cold
is designed with grommets to enable secure tie down (in cases of wind or while on the move)
in optimal sunlight, has charge times similar to the AC travel charger
is UV resistant/weatherproof
is easy to stow
Operating Voltage: 12 V
Operating Current: .6A
Length:  folded: 9 x 5x 3/4 in., 229 x 127 x 19 mm; open: 29 1/8 x 17 ½ x 1/32 in., 740 x 445 x 10 mm
Weight: 0.9 lb/0.4 kg