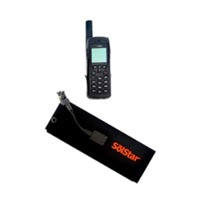 SolStar i-10 Solar Charger
The SolStar i-10 is the lightest 10 watt solar charger on the market. In optimal sunlight, charge times are similar to an AC Charger. Ideal for rugged conditions and the marine environment, the charger is UV resistant and weatherproof. The SolStar i-10 comes with a 15-foot extension cord and female CLA adapter.
Visit the SolStar website for more information on the SolStar i-10.
Technical Specifications & Features
The SolStar i-10:
performs well in hot and cold
is designed with grommets to enable secure tie down (in cases of wind or while on the move) in optimal sunlight, has charge times
similar to the AC travel charger
is UV resistant/weatherproof
is easy to stow
Operating Voltage: 12 V
Operating Current: .6A
Length: folded: 10.5 x 3.5 x 1.3 in., 267 x 89 x 33 mm; open: 23.7 x 21 in., 602 x 533 mm
Weight: 0.73 lb/0.33 kg