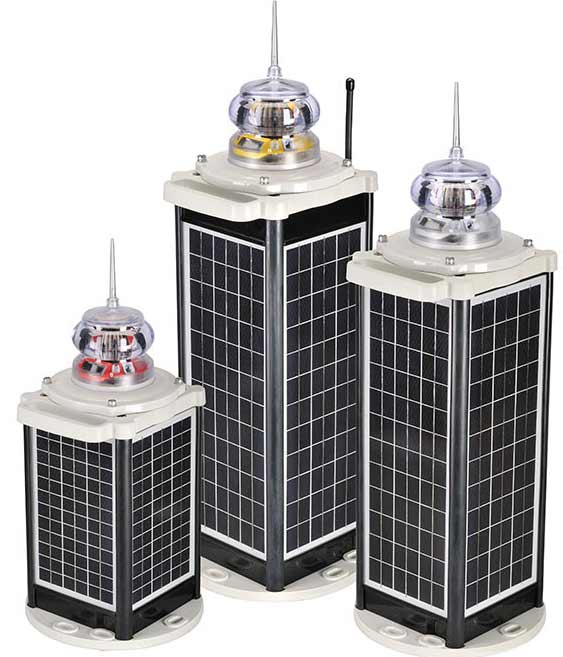 SL-C510 Solar Marine Lantern
By : Sealite Pty Ltd | Model : 5-9NM Solar Marine Lantern
Intensity Range
Enhanced Optics
Solar Efficiency
OLED Screen with Touchpad
Bluetooth® Connectivity
The SL-C510 is a high intensity, completely self-contained 5–9NM solar LED marine lantern. It offers class leading features to improve the way customers manage their valuable Aids to Navigation assets.
The SL-C510 range is satellite enabled with two-way data connectivity, using the Iridium® Low-Earth Orbit satellite network. Accessed through the Star2M® platform, users can now monitor, control and manage their important assets from anywhere in the world. The SL-C510 is designed to withstand the tough marine environment to provide years of reliable, low-maintenance service.
The SL-C510 is manufactured by Sealite who provide innovative products, remote monitoring, control and asset management services for the marine industry.

Features
High Intensity of up to 1100 candela while using LEDs for a visible range of 5-9NM.
Enhanced Optics ensuring vessel operators can clearly see the light from above when passing the AtoN.
Optimized Solar Charging via MPPT & Monocrystalline Panels.
OLED (Organic Light-Emitting Diode) Screen with Touchpad allows lantern diagnostics.
Bluetooth® Connectivity using SealitePro® app for convenient in-field setup, configuration and maintenance from up to 50m away using phone or tablet.
SATCOM–optional integrating Iridium Satellite module available enabling two-way monitoring and control using the Iridium Low-Earth Orbit satellite network. Star2M® portal accessible, the global Iridium network which offers genuine, pole-to-pole coverage.
Integrated, Internal AIS as type 1 or type 3 and operating on the international VHF Marine Mobile Band for AtoN operational status and positioning information.
Light Characteristics
| | |
| --- | --- |
| Light Source | LED |
| Available Colors | Red, Green, White, Yellow, Blue |
| SL-C510-5D Typical Maximum Intensity (cd)† | Red – 624, Green – 694, White – 1155, Yellow – 572, Blue – 313 |
| SL-C510-10D Typical Maximum Intensity (cd)† | Red – 466, Green – 442, White – 653, Yellow – 326, Blue – 203 |
| Visible Range (NM) | AT @ 0.74: 5-9NM |
| Horizontal Output(degrees) | 360 |
| Vertical Divergence (degrees) | 5 or >10 |
| Available Flash Characteristics Up to | Up to 310 IALA Recommended (User Adjustable) |
| Intensity Adjustments | Multiple Intensity Settings |
| LED Life Expectancy (hours) | >100,000 |
Electrical Characteristics
| | |
| --- | --- |
| Current Draw (mA) | Refer to Sealite Solar Calculator |
| Circuit Protection (cd)† | Integrated |
| Nominal Voltage (V) | 12 |
| Autonomy (nights) | >110 (14 Hour Darkness, 12.5% Duty Cycle) |
Solar Characteristics
Solar Module Type
Monocrystalline
Output (watts)
Compact: 20 (4 x 5 watt)
Chassis Extended: 33.6 (4 x 8.4 watt)
AIS Extended: 33.6 (4 x 8.4 watt)
Charging Regulation
MPPT
Power Supply
Battery Type
Gel SLA (Sealed Lead Acid)
Battery Capacity (Ah)
Compact: 12
Chassis Extended: 24
AIS Extended: 24
Physical Characteristics
Body Material
Aluminium Chassis with UV-stabilised Rubber Corners & Gaskets. Polymer Composite-moulded Top & Base
Lens Material
LEXAN® Polycarbonate – UV Stabilized
Lens Diameter (mm/inches)
98 / 3 7/8
Lens Design
LED Optic
Mounting
3 & 4 hole 200mm Bolt Pattern
Height – Base (mm/inches)
Compact: 492 / 19.37
Standard: 648 / 25.50
Extended: 660 / 25.98
Width (mm/inches)
Compact: 234 / 9.05
Standard: 234 / 9.05
Extended: 234 / 9.05
Mass (kg/lbs)
Compact: 9.2 / 20.3
Standard: 15.2 / 33.5
Extended: 16.0 / 35.3
Product Life Expectancy
15 Years Plus
Environmental Factors
| | |
| --- | --- |
| Shock | MIL-STD-202G Test Condition H, Method 213B 30G Vertical & 35G Horizontal Shock |
| Vibration | MIL-STD-202G, Test Condition B, Method 204D 5G in All Axes |
| Ice Loading | Rated to Withstand 22kg/m2 |
| Salt Fog | MIL-STD-810F Method 509.4 |
| Rain Test | MIL-STD-810F Method 506.4 Procedure 1 |
| Wind Exposure | Rated to Withstand 140 Knots |
| Humidity | MIL-STD-810F Method 507.4 (0 – 100%, Condensing) |
| Temperature Range | -30 to 50°C |
Compliance
CE
EN61000-6-2:2005
IEC61000-4-2:2008
IEC61000-4-3:2010
IEC61000-6-1:2016
IALA
Signal Colours Compliant to IALA E-200-1
Quality Assurance
ISO9001:2015
Ingress Protection
IP68
Additional Information
Options Available
IR Programmer
External ON/OFF Switch
External Battery Charging Port
Satellite Communications
5°, 10° Lens
AIS
Warranty*