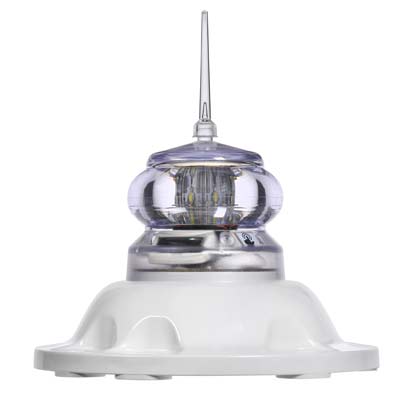 SL-C510 SA Stand-Alone Marine Lantern
By : Sealite Pty Ltd | Model : 5-9NM Marine Lantern
Intensity Range
Enhanced Optics
Solar Efficiency
OLED Screen with Touchpad
Bluetooth® Connectivity
The SL-510 SA Stand-Alone Marine Lantern can be remotely monitored and maintained via Bluetooth® or Iridium® satellite technology. It Is A 5-9 NM LED Lantern Specifically Designed To Withstand The Tough Marine Environment To Provide Years Of Reliable, Low Maintenance Service. The 3 & 4 Hole Bolt Pattern Base Fits Directly Onto Existing 200mm Bolt Pattern Industry Standard Mounts For Ease Of Installation.
The Tough, Polycarbonate Lens Is Specifically Designed For Use With LEDs & Incorporates An Environment-Friendly Spike To Deter Unwelcome Bird Life. The Lens Design Also Ensures That Vessel Operators Clearly See The Light From Above When Passing The AtoN. The Design Incorporates A Conveniently Located OLED (Organic Light-Emitting Diode) Screen With Touchpad Allowing Maintenance Personnel To Check The Diagnostics Of The
Lantern With The Touch Of A Button.
The SL-510-SA Is Manufactured By Sealite Who Provide Innovative Products, Remote Monitoring, Control & Asset Management Services For The Marine Industry.
Features
Satellite Communications
GSM Communication
AIS Type 1 & Type 3 Connectivity
Enhanced Optics
GPS Synchronisation
OLED Screen with Touchpad in Lens
Bluetooth® Connectivity
Polycarbonate Base & Top
Environmentally Friendly Bird Spike
Light Characteristics
Stabilized
| | |
| --- | --- |
| Light Source | LED |
| Available Colors | Red, Green, White, Yellow, Blue |
| SL-C510-5D Typical Maximum Intensity (cd)† | Red – 620, Green – 690, White – 1150, Yellow – 570, Blue – 203 |
| SL-C510-10D Typical Maximum Intensity (cd)† | Red – 460, Green – 440, White – 650, Yellow – 320, Blue – 203 |
| Visible Range (NM) | AT @ 0.74: 5-9NM |
| Horizontal Output (Degrees) | 360 |
| Vertical Divergence (Degrees) | 5 or >10 |
| Available Flash Characteristics Up to: | Up to 310 IALA Recommended (User Adjustable) |
| Intensity Adjustments | Multiple Intensity Settings |
| LED Life Expectancy (Hours) | >100,000 |
Electrical Characteristics
| | |
| --- | --- |
| Current Draw (mA) | Refer to Sealite Solar Calculator (Variable up to 10W) |
| Circuit Protection (cd)† | Integrated |
| Nominal Voltage (V) | 12 |
| Autonomy (Nights) | >110 (14 Hour Darkness, 12.5% Duty Cycle) |
Physical Characteristics
| | |
| --- | --- |
| Body Material | LEXAN® Polycarbonate – UV Stabilized |
| Lens Material | LEXAN® Polycarbonate – UV Stabilized |
| Lens Diameter (mm/inches) | 98 mm (3.375 in) |
| Lens Design | LED Optic |
| Mounting | 3 & 4 Hole 200mm Bolt Pattern |
| Height – Base (mm/inches) | 218 mm (8.58 in) |
| Width (mm/inches) | 228 mm (8.98 in) |
| Mass (kg/lbs) | 1.2 kg (2.65 lbs) |
| Product Life Expectancy | 15 Years Plus |
Environmental Characteristics
| | |
| --- | --- |
| Shock | MIL-STD-202G Test Condition H, Method 213B 30G Vertical & 35G Horizontal Shock |
| Vibration | MIL-STD-202G, Test Condition B, Method 204D 5G in All Axes |
| Ice Loading | Rated to Withstand 22kg/m2 |
| Salt Fog | MIL-STD-810F Method 509.4 |
| Rain Test | MIL-STD-810F Method 506.4 Procedure 1 |
| Wind Exposure | Rated to Withstand 140 Knots |
| Humidity | MIL-STD-810F Method 507.4 (0 – 100%, Condensing) |
Compliance
Temperature Range
-30 to 50°C
CE
EN61000-6-2:2005
IEC61000-4-2:2008
IEC61000-4-3:2010
IEC61000-6-1:2016
IALA
Signal Colours Compliant to IALA E-200-1
Quality Assurance
ISO9001:2015
Ingress Protection
IP68
Options Available
IR Programmer
GSM Communications
Satellite Communications
AIS
Warranty