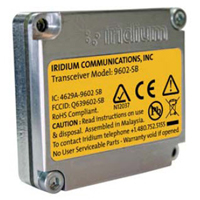 The SkyBitz GLS9602 modem combines SBD service from Iridium with SkyBitz's proprietary Global Locating System (GLS) creating endless possibilities for developers. The global low latency SBD service and the SkyBitz GLS solution provides the ideal solution for monitoring and updating status on everything from containers and trucks to planes and ships.
The SkyBitz GLS9602 modem, SBD air-time and GLS service are sold exclusively through SkyBitz.
Note: This product is for integration into other products/solutions. It is not a standalone product.
Technical Specifications & Features
True global coverage
Low latency service
Small transceiver
Mechanical Dimensions
Length 41.0 mm
Width 45.0 mm
Depth 13.0 mm
Weight 3.0g
Environmental Specifications
Operating Temperature Range -40ºC to + 85ºC
Operating Humidity Range ≤ 75% RH
Storage Temperature Range -40ºC to + 85ºC
Storage Humidity Range ≤ 93%RH
RF Parameters
Frequency Range 1616 MHz to 1626.5 MHz
Duplexing Method TDD (Time Domain Duplex)
Input/Output Impedance 50Ω
Multiplexing Method TDMA/FDMA
DC Power Input
Idle Current (average) 45mA
Idle current (peak) 195mA
Transmit Current (peak) 1.5A
Transmit Current (average) 190mA
Receive Current (peak) 195mA
Receive Current (average) 45mA
SBD Message Transfer – Average Current 190mA
SBD Message Transfer – Average Power ≤ 1.0W
Certifications