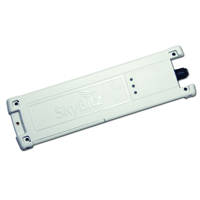 SkyBitz Inc - Galaxy GTP1000
Forged from the combination of the best technologies on the market today, the SkyBitz® Galaxy GTP1000 is a state-of-the-art global tracking and monitoring solution. This revolutionary development in technology uses our patented Global Locating System (GLS) coupled with the world's only truly global satellite constellation by Iridium. When combined with a dramatically smaller device footprint and multi-year battery life, the GTP1000 is perfect for tracking mobile assets anywhere in the world.
The self-contained GTP1000 can be easily installed on assets like trailers, containers, and construction equipment using two simple mounting brackets and four screws.
The GTP1000 introduces instant installation verification, assuring that each device is installed and connected properly via built-in LEDs, eliminating any guesswork. An optional magnetic key allows users to check battery status and send a diagnostic message while in the field. Replacing batteries is simple because the GTP1000 is powered by off-the-shelf "AA" lithium batteries.
The GTP1000 was built to last. It's ruggedized, low profile, weather proof housing is designed to withstand the harsh environments of the transportation, intermodal, and construction industries. The device can also accommodate a suite of additional sensors, such as cargo, door and tire pressure, which cover a variety of security, environmental and operational reporting requirements.
The GTP1000 provides the capacity to incorporate sensors for additional situational awareness. The device is ruggedized to IP67 standards and easy to install and maintain.
Technical Specifications & Features
True Global Coverage
Multi-year Battery Life
Installation Verification in the Field
Compact Design
Powerful GLS Technology
Physical
Dimensions (L x W x H): 12.45 in x 3.56 in x 1 in (316.2 mm x 90.4 mm x 25.4 mm)
Housing Material: LEXAN 943 Polycarbonate Plastic
Weight: 1.21 lb (550 g) with Batteries (no mounting brackets)
Environmental
Operating Temperature: –40°C to 70°C
Storage: –55°C to 85°C (excluding batteries)
Vibration: Random Vibration from 10 to 500 Hz per MIL-STD-810F Figure 514.5C-1 "U.S. Highway Truck Vibration Exposure"
Humidity: MIL-STD-810F, Method 5.4 for Six Full Cycles as Described in Figure 507.4-1
Shock: MIL-STD-810F, Method 516.5 Procedure I Using an Impact Having a Shock Response Spectrum Equal to that Labeled "Functional Test for Ground Equipment" in Figure 516.5-8 of MIL-STD-810F
Drop: MIL-STD-810F, Method 516.5, Procedure IV
Impact: ASTM D5628
Salt Fog: MIL-STD-810F, Method 509.4
Water Spray and Steam Cleaning: SAE J1455 Section 4.5
Dust and Sand Bombardment: MIL-STD-810F, Method 510.4
Solar Load and UV Exposure: MIL-STD-810F, Method 505.4 Procedure I, Cycle A1 and fifty-six 24-hour cycles per Procedure II
Dust/Water Ingress Protection: IP67
Power: 6 AA Lithium Iron Disulfide Batteries 4.5 V, 6 Ampere-hours
Radio Performance
Frequency (MHz): 1575.42 MHz GLS Receive 1616.0 to 1626.5 MHz L Band Transmit/Receive
Transmit Power EIRP: 2.74 W Peak
Interfaces
I/O Connector: 18 Pin Connector
Serial Port(s): RS485, RS232
Inputs/Outputs: 2 Open/Closed Switch Connections, 2 Open/Closed Control Lines
Smart Sensor Tracking (SST): Accelerometer
Remote Antenna (GTP1100 only): SMA-Female
Certifications
FCC Part 25, CE, Industry Canada RSS-170, Pb-Free, RoHS Compliant