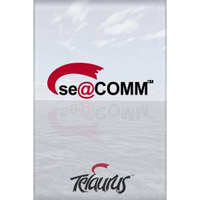 se@COMM® took over two years of high-level engineering to develop, and then underwent four months of sea trials before being commercially released. Since that time, se@COMM® has been continuously improved and developed to provide new features and functionality ensuring its ongoing relevance in today's maritime communications environment. To date se@COMM® has been used by many shipping companies on board thousands of ships.
Our combination of se@COMM® and the Telaurus Global Network (TGN) makes it possible for us to deliver convenient and consistent communication services at the lowest prices available. Telaurus Communications has seamlessly integrated proven, reliable technology with innovative software designed and tested around the user's real-world needs and environment. se@COMM® provides shipping companies user-friendly, cost-effective, highly secure and reliable communications solutions whenever they need them and wherever they are, and requires little or no training and minimal capital investment.
Technical Specifications & Features
Emails are delivered to ships near real-time with minimal delay
Includes simple but powerful filters to help prevent spam and other unwanted emails
Supports networked PCs using either se@CLIENT® or a web interface
Exclusive global SMS service – exchange SMS messages with any mobile unit from any private or commercial se@COMM® account
Features private crew accounts that require little or no administration from the shore office (funded with se@CARDS® or a major credit card).
'Follow me' email accounts allow private users to maintain the same Telaurus.net email address on whichever se@COMM®-equipped vessel they serve on.
Send your forms and repetitive reports using se@FORMS®, giving further cost savings over traditional means of exchanging such information.
Allows users to switch between languages on the fly (includes Chinese, Turkish, German, Korean and English, with others to follow).