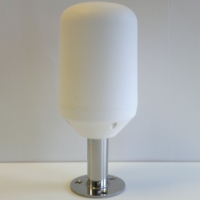 SCAN Passive Omnidirectional Antenna
This antenna is designed for optimum connection between the terminal and the satellites. It is well suited for maritime, land-mobile and fixed installations.
Cable has to be ordered separately.
Part Number: 65 000
Technical Specifications & Features
Antenna Gain: typ. 2 dBic
Connector: N Female
Operational Temperature -40°C to +85°C
For more information, visit our website.
Iridium Part:
Antenna Gain: typ. 2 dBic
Polarisation RHCP
Axial ratio: < 6 dB
Frequency Range:
1616.0 – 1626.5 MHz
Connector: N Female
General Specifications:
Operational Temperature -40°C to +85°C
Tested according to IEC-60945
Size: Diameter 95 mm
Height 188 mm
Weight: 0.30 kg
Color: White
Ingress Protection: IP-66