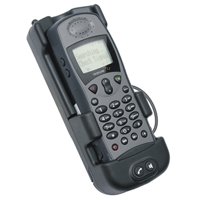 SATTRANS - 9505A Vehicle and Marine Docking Station
SATTRANS 9505A Vehicle and Marine Docking Station enables the use of Iridium 9505A satellite phones in all types of vehicles such as cars, trucks, boats and ships. It supports full duplex hands-free or private-mode voice conversations, use of data and antenna ports, and radio muting-and charges the phone's battery.
How it Works
The Iridium 9505A phone cradle can be installed on a vehicle or boat dashboard for easy access to the phone. Electric power to the cradle is supplied via the vehicle's battery or the boat's distribution panel. An external antenna (not included) is connected to the antenna port on the cradle to provide satellite coverage inside the vehicle or boat.
Voice calls can be made in two modes:
Hands-free mode via external speaker and microphone, or
Private mode via optional privacy handset or earpiece.
During calls, the car's radio is automatically muted to allow the conversation.
Technical Specifications & Features
Full duplex hands-free operation of Iridium phones
Perfect voice reproduction and echo cancellation
Mutes car stereo when calling
Microphone mute option
Two-mode operation: hands-free or private (via optional handset)
Automatic adjustment to noise conditions
Data transfer via RS232 serial data port
Audio jack for handset or earpiece
Charges phone battery
Two-year worldwide warranty
Operating temperature: -13 – 176 °F (-25 – 80 °C)
Input power: 10-16V DC, max 2A
Height: 8.5 in. (216 mm) – cradle
Width: 3 in. (78 mm) – cradle
Depth: 2.6 in. (66 mm) – cradle
Weight: 2.2 lbs (1 kg) – retail box
Ports: 1) Data RS-232; 2) Antenna TNC-female; 3) Audio jack 2.5 mm (3/32 in.)