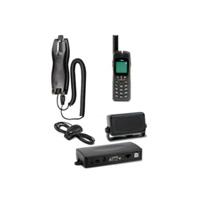 SatStation IRI9555-HF Docking Station
The SatStation IRI9555-HF provides hands-free voice and data communication for yourIridium 9555 handset. Stay in touch while you are in your car, in a building, at sea, or in the air. Equipped with an automatic stereo muting feature and car ignition connection, the SatStation hands-free dock is a ready-to-go and easy-to-install solution for your boat or vehicle. This SatStation dock features a cutting-edge, background-noise filter and echo-canceling technology, bringing you unmatched quality in satellite communication.
How it Works
SatStation users simply attach their Iridium satellite phone to the docking station cradle and connect the audio and power cables. The cradle securely holds the phone and connects it to an external antenna. While the phone is in the cradle the battery is charged. The SatStation speaker amplifies the ringer so it can be heard from several rooms away. The user can use the Iridium phone's key pad to answer or make a satellite phone call in hands-free mode. The SatStation's echo-canceling microphone enables the user to enjoy hands-free operation even in noisy environments such as a boat, car or worksite. If the included privacy handset is released from its holder, the microphone and speaker are disengaged and the call is transferred to the privacy handset. When the privacy handset is returned to the holder, the call the SatStation switches back to hands-free mode.
Technical Specifications & Features
Full duplex hands-free operation
Two-mode operation: loudspeaker and private talk
Mutes car stereo while in use
Echo cancellation and background noise filter
Loud external speaker/ringer
Charges phone battery
Made in the USA
Width: 3 in.
Height: 7 in.
Weight: 3 lb
Operating temperature range: –30 °C to +60 °C