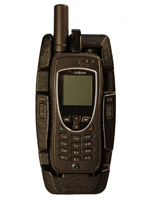 SatStation Extreme Dock - Deluxe
The Extreme Dock is engineered specifically for the Iridium Extreme, integrating with the phone's Emergency SOS feature to maximize safety. The dock both charges the Iridium Extreme and connects to an external antenna using the connector on the bottom of the phone, eliminating the need for additional cables and adapters. Equipped with an automatic stereo muting feature and car ignition connection, this dock is a ready-to-go vehicular solution. With its cutting edge background noise filter and echo canceling technology, the SatStation Extreme Dock offers unmatched quality in satellite communication!
How it Works
SatStation users simply slip their Iridium satellite phone into the docking station cradle and connect the power and antenna cables from their sources to the cradle and junction box. The cradle securely holds the phone and connects it to an external antenna. While the phone is in the cradle the battery is charged. The loud 10-watt SatStation speaker also amplifies the ringer. The Iridium phone's key pad is used to make and receive calls in hands free mode. The privacy handset can be used to answer calls and hang up. Users can toggle between privacy and hands free mode. The SatStation echo-cancelling microphone enables the user to enjoy hands-free operation even in noisy environments such as a boat, car or work site.
Technical Specifications & Features
Sleek and compact
Integrates with Emergency SOS button
Bluetooth Option
RJ11 (POTS) Option
Full duplex hands-free operation
Toggle between loudspeaker or private mode
Echo cancellation and background noise filtering
Charges phone battery
Made in the USA
Input voltage range: 11V dc to 32V dc
Operating ambient: -30°C to +60°C