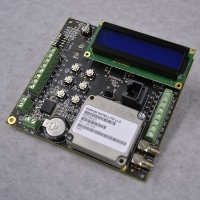 Overview
Pi-Star's MikroSAT Modem integrates Iridium's 9602 SBD Modem with one of Microchip's PIC micro-controllers providing you with a complete hardware platform. Without the presence of proprietary software, you can choose from a variety of PIC compatible software compilers to create your solution. Variable voltage VDC input makes the MikroSAT perfect for remote solutions where batteries are the only available power.
A variety of peripherals and ports are on the platform including RS-232 / RS485, 128KB EEPROM, RTC, LCD, [5] Buttons, [4] LED's, LCD display, and [8] I/O ports with A/D capability. All of these items are accessible using the microcontroller. The Iridium 9602 Modem is accessed through one of the RS232 ports directly attached to the microcontroller. Using simple AT commands within your software is all that is required to successfully send messages through the Iridium 9602. The integrated 'In Circuit Serial Programming Connector' allows you to program the microcontroller and debug your application with your favorite compiler.
Prior to implementation, please note that applications using Pi-Star's MikroSAT must be certified by Iridium.
Technical Specifications & Features
Board
Micro-controller
MCU: PIC18F87K22
Oscillator: 16 MHz
RAM: 3862 Bytes
Flash Program Memory: 128 KBytes
EEPROM: 1024 Byte on MCU
Peripherals
EEPROM: 128 KByte External IC
[1] EUSART RS232 or RS485
[1] EUSART RS232 Dedicated to Iridium 9602 Modem
[1] UART RS232 [8] General Purpose I/O Ports
[5] Buttons
SMA Connector for Iridium Modem Antenna
RTCC
16 x 2 LCD
In Circuit Serial Programming Connector