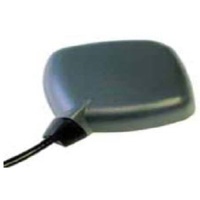 PCTEL 9211 Iridium Magnet Mount Passive Antenna
PCTEL 9211D is a magnet mount RHCP antenna, 1616-1626.5 MHz, designed specifically to operate with the Iridium satellite communication network.
The 9211D features a precisely tuned ceramic patch element and is enclosed in a rugged, weatherproof housing that allows the Iridium SBD transceiver to be mounted away from the elements, yet fully meeting Iridium's radiated power requirements. The radome is composed of high-grade GE plastic and the zinc base is equipped with both screw holes and magnets for ease of installation.
Technical Specifications & Features
Ideal for use with Iridium™ Satellite Short Data Service Applications.
High Performance, Passive, RHCP Antenna.
Custom Tuned Ceramic Patch.
Rugged Weatherproof Housing.
Magnet or Screw Mount Option.
Length: 52.1mm
Width: 58.9mm
Height: 13.6mm
Weight: 120g
Operating temperature range: -40°C to +85°C
Click here for More Specifications