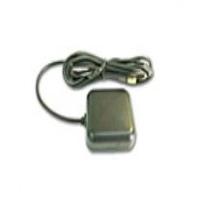 The Partron MAIE2500J1101 Iridium certified affordable 45x45mm passive antenna with a self-adhesive magnet pad or double-sided adhesive pad is designed to provide excellent performance in the 1616.0 to 1626.5 MHz range with or without a ground plane.
This Iridium-frequency antenna is designed for land/mobile applications and will work with both voice and data communications systems. It is available with magnetic or double-sided tape mount and different cable options and lengths.
How it Works
Addresses coverage in the 1616.0 to 1626.5 MHz range for commercial use. Mounted on the customer's equipment via magnetic patch or adhesive pad to enhance the transmission performance of Iridium communication modems/phones.
Technical Specifications & Features
Small Size (45x45x17.2mm), optional ground plane (70x70mm)
Economical
Customization of cable lengths, types and connectors possible
Adhesive patch for magnetic mount version available
Length: 45 mm
Width: 45 mm
Height: 17.2 mm
Operating temperature range: -40°C to +80°C
Protection Class: IP67
Frequency: 1616~1625.5 MHz
Polarization: RHCP
Gain @ Zenith: 4dBic