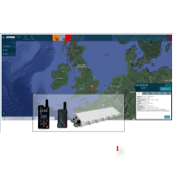 The SCC (Situational Command & Control) TITAN platform, combined with Iridium SBD devices and BlackBerry, iPhone and Android smartphones, offers situational awareness/command and control of personnel, vehicles, aircraft and maritime assets.
The web-based platform can be accessed over the internet or installed into client location and offers a Lynx solution to monitor all assets Air/Land and Sea. Position data or messages are communicated in real time via Iridium or smart phones back to HQ platform. Sensors detecting chemicals, for example, can also send valuable data back to the platform. This systems provides analytical information in real time to the operations commander.
Technical Specifications & Features
Real time tracking and situational awareness.
Emergency reporting.
Two way messaging and advanced address books that work with satellite or smart aps.
Over 20 devices integrated.
Nearest responder, an emergency alert will automatically go to the closest responder device.
BFT using Windows tablet connected to SBD devices as data link.
GEOFENCES for inclusive and exclusive zones including route planning.
History.
Extendable maps in NOC.
Secure push pull XML links to any platform.