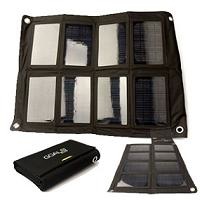 Nomad 27M Solar Panel Charger
The Nomad 27M has been from the South Pole, North Pole, Everest and everywhere in between. They have been dropped, ran over with a truck, dunked in rivers, you name it. Tested by a team of adventurers to test this gear to the limits in the most extreme situations to make sure it will work for you in whatever you choose to do – extreme or not.
Power everywhere, collect power, store power, and use power anywhere.
There really is no other product currently out there that is comparable to the Nomad 27M. This unique solar panel provides more power at a lower price with units smaller and lighter than the closest competitor. The Nomad 27M is a durable, folding solar panel that provides necessary power for a mobile Iridium 9555/9505 kit.
The Nomad 27M provides the power you need when you're out of reach of civilization.
Technical Specifications & Features
27 watt of mono-crystalline solar technology
Small, lightweight, foldable soft case for convenient carrying
Water resistant to protect from the elements
Built-in pocket to hold connector cord
Three (3) aluminum support rods to provide more rigidity during charging
Four (4) sturdy grommets provide various hanging options
Tested and certified by CE
Weight: 3.4 lb / 1.54 kg
Dimensions (folded): 26.7 x 17.8 x 2.5 (cm)
Dimensions (unfolded): 57.2 x 113 x 0.1 (cm)
Optimal Operating: 32°-86°F
Open circuit voltage: 18V
Charging voltage: 12.5V±2V
Warranty: 12 months