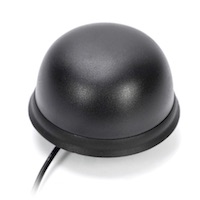 Overview
How it Works
The antenna requires a 19mm drill hole, preferably on a metal surface. The cable should be taped in position on the underside of the install surface and not hang loose.
Technical Specifications & Features
Iridium Only
19mm Drill Hole for Installation
Groundplane Independent
1.5m Low Loss LMR195/RG58/H155 Cable Used with SMA Male Connector
IP67
Other products in the 2J range include the 2J6026M Magnetic Puck which is available in Iridium and Iridium GPS
Dimensions
Max Height: 36.5 mm
Mad Diameter: 77.3 mm
Resources
Login to access additional resources
Partner Products
Last Updated
Size
Document Name
2J Antennae SK - Multiband 2J6726 Antenna - Datasheet
File Name
PP_2J Antennae SK_Multiband 2J6726B_Datasheet.pdf
Vendor
Multiband Antennas Limited
Description
Product datasheet for 2J 6726B Antenna.
Date
January 17, 2018 06:28 PM EST
Related Products
2J-Multiband 2J6726