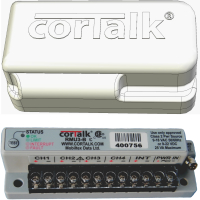 Mobiltex Data Ltd - RMU3 Remote Monitoring Unit and GPS Interrupter
The RMU3 is a low-cost, high-reliability device intended to control and monitor rectifiers, bonds and test points. The device provides GPS synchronized interruption functionality and is available in GSM Cellular (RMU3-G) or satellite (RMU3-S) communication configurations. The field hardware consists of two primary components: a small measurement terminal block (RMU3-B) that is usually mounted inside the rectifier, and the antenna transceiver that is typically externally mounted. The device operates from a low-voltage source such as a Class 2 transformer and has an internal battery backup system for short-term operation during power outages. The very low power consumption of the device makes it suitable for TEG and solar applications. The RMU3 has integral high-energy surge suppression and provides unprecedented lightning immunity because there are no connections to electrical ground.
The RMU3 monitors and transmits nine channels of information. Four high-accuracy, galvanically-isolated, AC/DC-capable analog inputs are typically used to monitor volts, amps and / or 4-20mA signals from external equipment. An integral power source sensor can be used to determine if supply voltage or AC line voltage is present. An integral magnetic sensor can be used as a rectifier door sensor or tamper detection alarm. The RMU3 measures temperature and internal backup battery voltage. A user accessible switch allows the transmission of uniquely identified messages that can be used to record site visit information. The RMU3 is available with an optional "Measurement Recorder" which will measure and save all the analog readings every 6 hours with eight years of memory storage capacity.
Measurement data is wirelessly transmitted to the Mobiltex corView servers. CorView manages all field data communications, maintains three years of measurement data, sends alarm exception and system performance emails, and provides password protected remote customer access. Remote interruption control of the RMU3 equipped rectifier is available via corView. With the proper credentials, corView can be accessed using an Internet Explorer web browser. The measurement data is presented in an intuitive tabular format or graphical mapping display that color-codes abnormal measurement or site conditions for quick user interpretation. CorView can also provide near real-time email notification of abnormal measurement and alarm conditions.
How it Works
Technical Specifications & Features
• Simple and very quick to install (typically under 1 hour)
• High reliability, long operational life design
• Low capital equipment cost
• Economical fixed-rate operational communication costs
• Satellite or GSM Cellular models for maximum service coverage
• Four galvanically isolated analog input channels
• Each analog channel is bi-polar with 150mV (50 and 100mV current shunts), 22V, 150V and 4-20mA measurement ranges
• Each analog channel can be configured to read DC or True RMS AC (i.e. induced AC measurements)
• DC analog channels include >65dB of 50/60Hz AC rejection
• All analog channels are high impedance and allow direct connection to reference half-cells
• Analog channel measurement accuracy of +/-0.5% DC and +/-1% AC FS over -40° to +70°C (-40 to +158°F)
• Programmable low and high alarm window capability on each analog channel with report by exception facilities
• Scheduled reporting of data based on customer selected plan (every 6 hours, daily, every 2 days or weekly readings)
• Each channel has independent very high voltage lightning protection
• No connection to ground for maximum lightning immunity
• Internal temperature measurement and reporting
• Internal wide temperature range rechargeable battery system provides 16 hours (RMU3-G) or 10 hours (RMU3-S) of backup
• GPS antenna / GPS receiver and high gain GSM or satellite antenna integral to antenna transceiver unit
• Compact two piece mechanical design
• Termination block assembly is 135mm x 38mm x 38mm (5.3 in. x 1.5 in. x 1.5 in.) and typically mounts inside the rectifier
• Antenna transceiver assembly is 134mm x 77mm x 53mm (5.3 in. x 3.0 in. x 2.1 in.) and mounts externally with a view of the sky
• Components connect together with a single polyurethane cable with small (0.5 in. diameter) molded waterproof connectors
• Antenna transceiver includes a bottom side ½ in. threaded receptacle that mates directly to electrical conduit fittings
• Easy configuration through a USB PC interface
• Rectifier GPS position information transmitted to corView host
• IP67 sealed enclosure and cabling for harsh environments
• Operation in -40° to +70°C (-40 to +158°F) temperatures
• Integral voltage sensor for safe and lightning immune detection of supply voltage presence
• Magnetic door switch / tamper sensor with exception report
• Optional: 8 year internal measurement recorder locally stores all readings sampled every 6 hours
• Remote Firmware updates & remote alarm limit changes
RMU3-B (Base Unit)
Environmental:
Operating Temperature: -40° to +70° C (-40° to +158°F)
Storage Temperature: -45° to +80°C (-49° to +176°F)
Humidity: 0 to 100% RH Non-condensing
Pollution Degree: 1
Maximum Altitude: 5000 Meters Above Sea Level
Physical:
Size: 135mm x 38mm x 38mm (5.3 in. x 1.5 in. x 1.5 in.)
Weight: 200 grams (7 oz)
Enclosure: UV Stable, Wide Temperature Polycarbonate
Mounting Mounted Inside a Rectifier
Power:
PWR IN Operating Voltage Range: 9 to 18 volts AC (50/60Hz) or 9 to 22 Volts DC
Power (less relay drive): 5 VA Maximum (Including RMU3-G/S)
Power (with relay drive): 25 VA Maximum (Including RMU3-G/S)
Power Source: LPS or Class 2 CSA/UL Approved (CSA 60950-1 or UL 60650-1)
Measurement Inputs:
Analog Measurement Type: Category 2 (as per CSA C22.2 – 61010)
Analog Ranges (DC & AC): +/- 150mVDC only
+/- 22VDC, 16V true RMS
+/-150VDC, 105V true RMS (+/- 119VDC for TEG sources)
4-20mA (with external precision shunt resistor)
AC Rejection on DC Readings: >65dB @ 50/60Hz
External Analog Channels : 4 galvanically isolated, high impedance
Lightning Immunity: Survives multiple 20KV 10mS surges
DC Measurement Accuracy: +/- 0.5% of full-scale
AC Measurement Accuracy: +/- 1.0% of full-scale
ADC Resolution: 16 bits
Temp. Measurement Accuracy: +/-4°C (+/-7°F)
Door / Tamper Switch: Activated by external magnet (included with device kit)
Interruption Output:
Relay Drive Voltage: 12 Volts DC (Pwr In – 1VDC)
Relay Drive Current: 0.75 Amps Maximum
Relay Contact Close Dwell: 0-100 ms
Relay Contact Open Dwell: 0-100 ms
Relay Contact Type: NO or NC
Relay Type: Solid State or Mechanical
RMU3-S GPS & Satellite (Antenna Unit)
Environmental:
Operating Temperature: -40° to +70°C (-40° to +158°F)
Storage Temperature: -45° to +80°C (-49° to +176°F)
Humidity 0 to 100% RH Non-condensing
Pollution Degree 2
Mounting Type 3 Enclosure – Suitable for Outdoor Use
Power:
Operating Voltage Range: 8.5VDC Nominal, Supplied from RMU3-B
Power: 4W Maximum
Physical
Size 53mm x 77mm x 134mm (2.1 in. x 3.0 in. x 5.3 in.)
Weight 550 grams (1.2 lb)
Enclosure Watertight, UV stable, wide temperature polycarbonate
Backup Battery: Internal 4V/2.8AHr extended temperature sealed lead acid
Communications
Radio: Iridium SBD Satellite
Interruption Timing
GPS Receiver: Internal 20 channel
GPS Antenna: Internal patch
Timing accuracy: +/-0.5 ms (AC line sync disabled)
+8.8/-0.5 ms (AC line sync enabled)
Off Time: 100 – 60,000ms in 1ms steps
Cycle Time: 200 – 60,000ms in 1ms steps