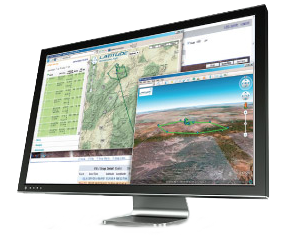 Latitude WebSentinel subscription-based data management service offers a reliable and affordable solution for processing geo-positioning and telematics data, collected and distributed by SkyNode and GeoNode devices operating on-board aircraft, overland vehicles and marine craft.
How it Works
Latitude Technologies' WebSentinel provides a simple, intuitive interface to display geo-spatial and messaging information from a number of different Iridium-based devices that include Iridium Extreme®. Data from Iridium Extreme is sent via the Iridium network over dedicated encrypted connections to Latitude Technologies data centers. These data centers are housed in multiple state of the art facilities in geographically redundant locations. This data is then available to you through WebSentinel via secure access in web browsers or a multitude of other mobile devices.
Technical Specifications & Features
Display real-time and historic flight paths
2-way Messaging
Event triggered or automated alerts
Modify device reporting characteristics from desktop
Administer custom access logins for your clients and employees
Take-off, landing, ETE and distance usage for mission statistics reports
Position, heading, speed, altitude and other flight status data
Real-time Google Earth/Maps coverage
Distance calculation
Custom map location markers
Interface to 3rd party applications
Geo-fencing
Subscriptions starting at $10 month
Secure enterprise grade solutions
Internet Browser – Google Chrome or Mozilla Firefox recommended. Microsoft IE also supported.