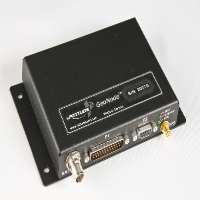 Overview
The GeoNode™ 100 is our terrestrial, marine and special purpose tracking and messaging transceiver. Track mobile and fixed assets anywhere. Built with rugged construction for dependable operation. Provisioned with a full application suite, configurable to your specific requirements. Supports event triggers, messaging, and data logging from external switches, buttons, sensors, and user-display terminals.
Technical Specifications & Features
• Complete Tracking and Telemetry Data Management System in an Ultra-thin, Ready to-install Package
• Provisioned with a Full Application Suite, Configurable to your Specific Requirements
• Supports Event Triggers, Messaging, and Data Logging; from External Switches, Buttons, Sensors, and User-display Terminals
• Fast-fix 12 Channel GPS (WAAS/EGNOS) Receiver, with Auxiliary NMEA Output
• 2 Serial Data Ports, Vehicle Ignition Input, 7 Discrete I/O, 3 Analog Inputs
• Remotely Programmable
• Integrates with Latitude's WebSentinel and Other Web-based Data and Mapping Systems
• Power: 10 to 18 VDC, 0.5A max, 90mA Nominal, 4 mA Sleep
• Operating Temperature Range: -35?C to +70?C
• Size: 6.5" x 4.0" x 1.1" (165mm x 102mm x 28mm)
• Weight: 0.90 lb. (408g)
For more information on the GeoNode or to place an order, please visit LatitudeTech.com.
GeoNode is not aircraft certified.