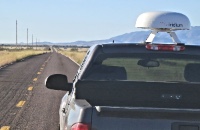 Iridium Pilot Land Station - Magnet Kit for Low Profile Mount
This Magnet Mount Kit is for use with our Low Profile Mount for Iridium Pilot® Land Station.
The kit includes a set of four magnets with stainless mounting hardware. These magnets can be used for mounting the Iridium Pilot to metal surfaces, such as vehicles, tool boxes, metal roofs, and car ports.