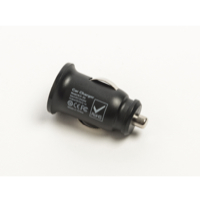 Iridium GO! - Auto Charger - USB Output
The Iridium GO!® auto charger is designed to charge the Iridium GO! device using DC power source.  With 1.5A for faster charging, it recharges the Iridium GO! rechargeable battery in 4 hours. The adapter requires the 1.2m USB Cable(WMUSB1301).
Part number WAUT1301.
Technical Specifications & Features
Compatible: Iridium GO!
Charges battery to 100% capacity in 4 hours