Iridium Edge®
Ready to Meet the Demands of an IoT World
Rugged, Reliable and Cost-effective Asset Tracking and Fleet Management
Deliver more value to customers by leveraging your existing terrestrial-based IoT solution for fleet management, telematics, safety and other remote monitoring applications. Iridium Edge® is a cost-effective satellite IoT communications device that can be rapidly deployed and complements terrestrial-based solutions to create worldwide connectivity. Iridium provides global IoT coverage for the most remote and inaccessible areas of the world.
Rapidly Deployed IoT Solution
Fast time-to-market is a critical need in today's evolving asset tracking and fleet management environment. Iridium Edge features an all-in-one Short Burst Data® modem and antenna, with power supply. The plug-and-play satellite IoT device can be easily paired with existing satellite and cellular solutions, without complicated integration or development requirements.
Key Features
Expand connectivity beyond cellular limits for 100 percent global IoT coverage
Satellite add-on enabling dual-mode capability
Hardware-ready device for simple, low-risk integration
Low-cost device for affordable customer adoption
Ready-to-install for quick time-to-market
Robust power supply for industrial installations
180° line of sight for compromised locations
Certified in key geographic markets
Benefits of Iridium's Low-Earth Orbit Network
Iridium Edge® inherits the many benefits of Iridium's Low-Earth Orbit (LEO) network.
100 percent truly global coverage from pole-to-pole
Provides a stronger, more robust satellite signal compared to GEO constellations
Shorter transmission path of LEO network results in lower latency and shorter registration time
Greater flexibility in installation
Improved line of sight over GEO systems in compromised locations or behind large obstructions
Overlapping satellite coverage and crosslinks provide redundancy and increased reliability
Test Drive Iridium IoT
Are you wondering if satellite communications can offer the scalability and reliability that you need for business operations? Test drive Iridium IoT!
Purchase an Iridium Edge® Demo Kit today and see first-hand the value that Iridium Edge and the related Iridium services can deliver. The kit will allow you to quickly evaluate the simple and robust design of the product, while benefiting from the low latency that is enabled through Iridium's Short Burst Data® service.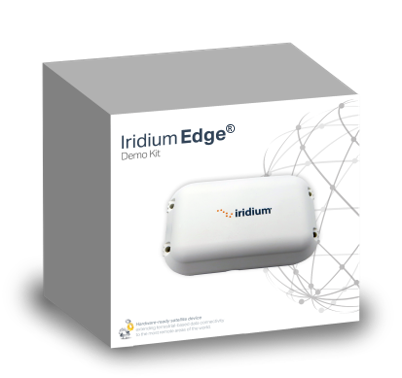 Resources
Login to access additional resources
Case Study
Certification - Regulatory
Comparison Chart
End of Life
Fact Sheet
Legal Notice
Product & Service Manuals
Product Details
Video