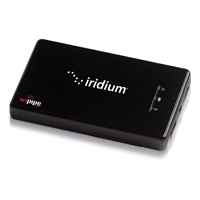 Iridium AxcessPoint (DISCONTINUED)
Overview
Combined with an Iridium satellite phone, Iridium AxcessPoint leverages the world's furthest reaching network to create a Wi-Fi hotspot wherever you are in the world — allowing you to check emails and stay connected to the office, or keep in touch with family and friends, anytime, anywhere.
Iridium satellite phones compatible with Iridium AxcessPoint include:
Iridium Extreme
Iridium 9555
Iridium 9505
Usage charges are billed per minute once the Internet connection is established, until you disconnect your Iridium AxcessPoint.
 Do even more with Iridium Mail & Web
Included with the Iridium AxcessPoint device is the free Iridium Mail & Web application that accelerates email messaging and web browsing when used with Iridium satellite phones and compatible Wi-Fi devices. The app also allows you to:
Access features in a single-click with easy icon navigation
Draft and view emails offline
Configure email size to minimize connection time
Queue up emails to be sent up to 15x faster than web-based services
Retrieve emails from external accounts
Block pop ups, removing ads and background images
Compress web pages for download speeds of 3-5x faster than uncompressed pages
Log in to Facebook and Twitter to keep your network updated
Compress and send photos to share experiences online
Access weather forecasts for up to 7 days for various locations
Technical Specifications & Features
Plug and play functionality
Users simply connect their Iridium AxcessPoint via USB cable to an Iridium handset, which automatically establishes a data session without additional setup required.
Small, light and portable
Iridium AxcessPoint offers a Wi-Fi range of 60 to 100 feet. Without being confined to one stationary position, users are able to move around comfortably while checking emails.
Multiple connections
Iridium AxcessPoint can connect smartphones (such as Blackberry or Android devices), laptops and iPads for emailing and light web browsing.
Model: PHS300IC
Dimensions:  4.7" x 2.8" x .8" (122 mm x 73 mm x 18.5 mm)
Certifications: FCC, CE, IC, Wi-Fi
Operating Temp: 0 C to 50 C
Supports Wi-Fi standard: IEEE 802.11 b/g at 2.4 GHz frequency
Resources
Login to access additional resources
Certification - Regulatory
End of Life
Firm/Software Upgrade & Release Note
Legal Notice
Product & Service Manuals