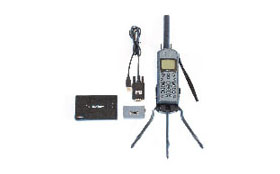 Iridium 9505A - Accessories Bundle
This new accessories bundle gives you the flexibility to connect your Iridium 9505A satellite phone with Iridium AxcessPoint and establish a wi-fi hotspot. The bundle consists of three components:
RS232 Data Adapter
USB to Serial cable
Iridium 9505A satellite phone stand
The USB to serial cable and the RS232 adapter are required to connect the Iridium 9505A satellite phone with an Iridium AxcessPoint device*. The satellite phone stand allows the satellite phone to remain docked and keeps the handset antenna vertically oriented towards the satellite constellation, enabling you to remain continuously connected to the Iridium network.
In order to successfully establish a data connection with your Iridium 9505A satellite phone, the firmware on the Iridium AxcessPoint device must be upgraded to Version 2.6.5. This firmware enables communication with the embedded firmware in the "USB to Serial cable", and establish connection with the Iridium 9505A satellite phone.
Download the firmware now.
*Sold separately.
Technical Specifications & Features
RS232 Data Adapter
RS232 serial port connector
Iridium 9505A serial port connector
USB to Serial Cable 
Smart USB to RS-232 (DB 9-pin male serial port) interface
Easy Plug and Play Installation
Full Compliance with the Universal Serial Bus Specification v1.1
Supports the standard RS-232 Serial Interface
Embedded USB drivers to communicate with Iridium AxcessPoint and Iridium 9505A handsets