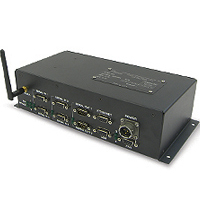 ICG NxtMail Server - Aviation
Overview
The ICG NxtMail Server provides a local Wireless Access Point (WAP ) in the aircraft cabin permitting WiFi capable personal devices to access conventional Internet Protocol (IP)-based terrestrial services for the purpose of sending and receiving emails and mobile web browsing. The NxtMail Server provides global connections via a single inexpensive Iridium channel. In addition to acting as a WAP and Dynamic Host Configuration Protocol (DHCP) server, the NxtMail Server efficiently and automatically manages link access to optimize "on-air" time and associated costs.
The Server has various interfaces that include: multiple serial ports, fax dial-up data interface, Ethernet, and USB. The NxtMail Server provides internal router functions and a HTTP server to permit access of up to 10 user devices, offering a truly wireless system for the aircraft cabin.
Multiple serial interfaces with port management, permit connections of several RS-232 devices without the risk of port contention, collisions or data corruption. Services such as Airshow, EFBs and cabin data ports can be simultaneously connected. WiFi capable user devices, such as BlackBerry® smartphones and iPhone™ mobile digital devices, are automatically assigned an IP address by the DHCP server to provide immediate access to the system without user intervention or set-up beyond what is required with any WiFi network.
The NxtMail Server is the ideal global email solution for any size aircraft cabin, and now offers email services to small to intermediate size aircraft where previous installations were prohibitively expensive or highly impractical.
Technical Specifications & Features
Store and forward faxing via the Iridium network
Configuration and control access via the Ethernet or WiFi port and a standard web browser
Built-in routing functions
IP addresses automatically assigned via DHCP
 WiFi via 802.11b provides access for up to 10 users to access system at one time
LED indicators displaying port and system status
Up to four (4) RS-232 subscriber ports and up to two (2) RS -232 network ports available for delivery of data traffic
Allows multiple users to access the device via the WiFi port or an on-board Ethernet switch
Permits a ground-to-air email to be delivered to, and printed by, the aircraft's on-board fax machine
Dimensions: (L x W x H):  12.23 in x 5.64 in. x 3.1 in. (31 cm x 14.3 cm x 7.9 cm)
Weight: 3.2 lb,1.45 kg
Prime Power: 28 VDC
Power Consumption: 600 ma. Max.@ 28 VDC
Serial Port Connectors: D-Sub DB-9
Temperature: 0°C to +35°C
Altitude: 15,000 feet
Vibration: Tested To Category S
Chassis Mounting: Flange Mount 4 Screws
Models:
28VDC Model PN: 370000-20
Installation Kit: PN: 370016