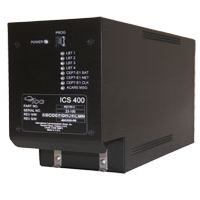 ICG NxtLink ICS-400 - Aviation
Overview
The ICG NxtLink Series ICS-400 Iridium Communications System incorporates four Iridium transceivers with an internal CTU, providing a standalone comprehensive communications system with connectivity to other aircraft systems. The ICS-400 permits connections of conventional telephony devices or legacy CTU systems through either standard 2-Wire "Tip and Ring" circuits, 4-Wire audio connections or via CEPT-E1 digital circuits.
CTU features include intercom calling, call transfer, conferencing, follow-on dialing and voice prompts. Designed into a 4 MCU Line Replaceable Unit (LRU), the device can be installed on any size of aircraft as the sole communications facility or as an additional/restorative communications system.
The ICS-400 also provides ARINC 429 connections and a dedicated Short Burst Data (SBD) modem for ACARS services.
The device is simple to operate offering standard dialing conventions and PABX operations with familiar call progress tones. It is the ideal solution for aircraft requiring up to 10 telephony connections and seamless global communications services without the inconveniences of hand-offs or no-service areas.
Technical Specifications & Features
Four Channels of Global Voice and Data
Dedicated ACARS/AFIS Services
2400 BPS Data or 10 KBPS with Compression
Call Management Functions
Secure Voice Via STE Devices
Credit Card Calling Services
Internal Fax Support for Fax Over Iridium
Call Alert Signals and Custom Indicators
Digital Echo Cancellation and Configurable Audio Enhancements
Chassis: (L x W x H)
Standard 4MCU Rack
15.68 in. x 5.04 in. x 7.6 in.
(39.83 cm x 12.8 cm x 19.3 cm)
Weight: (4MCU Rack) 10.5 lb (4.78 Kg)
Weight: (4MCU Tray) 2.00 lb (.909 Kg)
Prime Power: 28-volt DC
Power Consumption: 3 Amps @ 28-volt DC
LRU Connector: Arinc 600 Size 2
Temperature: -55°C to +70°C Storage, -40°C to +55°C Operating
Altitude: 55,000 ft.
Vibration: S2
Models:
PN # 400100-2 Base System
PN # 400101-2 w/ CEPT-E1
PN # 400102-2 w/ ACARS
PN # 400103-2 w/ ACARS & CEPT-E1
Certifications:
DO-160E Compliance
DO-178 Level D Compliant