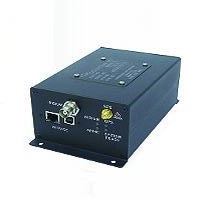 Overview
The ICG DataLink-100 (DL-100) is a multi-function data gateway device which provides Bi-directional messaging over the global Iridium satellite network via a Short Burst Data (SBD) modem. Built to aeronautical standards, the DL-100 can be used as a flight deck datalink communications system compliant with the ARINC 741 standard, to send and receive ATS and AOC data messages.
The DL-100 provides connections to aircraft DMU/CMU devices via conventional ARINC 429 circuits, permitting the sending and receiving of traditional ACARS messages as well as supporting the newer CPDLC and FANS1/A Messaging requirements. It can also be used as a device to send and receive free text messages or can support other data format exchanges.
The Datalink-100 has an internal GPS option that can be used to support asset tracking, automatic or event-driven position reporting or other requirements where positioning information is required.
The DL-100 has multiple connection types (Ethernet, USB, Serial, etc.) that provide access for peripheral devices and can be configured to be application specific.
With an internal GPS, the Datalink-100 can be a stand-alone device that provides discrete input and user definable event reporting. Other applications for the Datalink-100 are asset tracking or any application requiring periodic transmission of small data packets. The device is small, compact and light weight that can be installed on any size aircraft.
Technical Specifications & Features
(2 Ea.) ARINC 429 Transmit and Receive Circuits Configurable for High Speed or Low Speed
(1 Ea.) Ethernet 10/100 Base T Connection (Application Specific)
(1 Ea.) USB Connection (Application Specific)
(2 Ea.) RS-232 Serial Ports (Application Specific)
(1 Ea.) Power Connector
Chassis: (L x W x H)
7.4 in. x 4.2 in. x 2.7 in.
(18.8 cm x 10.7 cm x 6.9 cm)
Weight: Max 2.2 lb (1.0 Kg)
Prime Power: 12- to 36-volt DC
Power Consumption: 7 Watts Max
Connectors: Mil-Spec 32 Pin Circular
Power: Mil-Spec 3 Pin Circular
Data: 9 Pin Sub D
Programming: 9 Pin Sub D
Iridium antenna: Single or Dual Element
Environmental Specifications: DO-160E (D1)
Altitude: 55,000 Feet
Vibration: S (curve C)
Software Criticality: DO-178B Level D
Models
PN# 805100-00 With GPS Option
PN# 805100-01 Without GPS Option